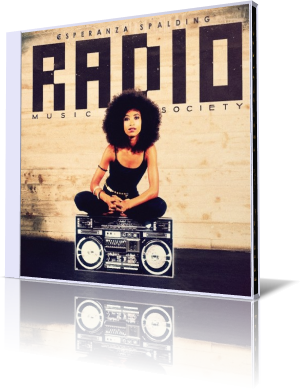 The easiest thing to do would be to say she's perfect – end of story. Pick one aspect of Esperanza Spalding's music and call it the best thing she does. Impossible. And it seems with each new project, she gets even better.

Radio Music Society (Heads Up, 2012) is Spalding's dynamic successor to her best-selling 2010 release, Chamber Music Society. Could a Blues Music Society be in her future? One can hope.

Growing up on classical music, Spalding discovered the bass in her teens, and realized the instrument offered a world of opportunity beyond that genre. After her Heads Up debut, Esperanza in 2006, Spalding quickly gained widespread recognition that's seldom afforded to a jazz artist.
During an appearance on The Late Show with David Letterman, the host called her the "coolest" guest. More recently, she was a featured performer for the BET Awards program and another appearance on Letterman's show.

It's a tall order to refute that compliment. Spalding plays acoustic and electric bass with equal verve. Whether as a leader or part of an ensemble, such as her appearance on Teri Lyne Carrington's Mosaic (Heads Up, 2011); playing her instrument, scatting or singing; writing new music or arranging classics, Spalding seems to get a hit with every proverbial swing of the bat. In 2011, she was awarded the Grammy for Best New Artist, a first for a jazz artist.

Radio Music Society features Spalding with an assortment talent, including Carrington, Joe Lovano, Jack DeJohnette and Lalah Hathaway. Gretchen Parlato, Becca Stevens and Justin Brown appear as guest vocalists for Spalding's cover of "I Can't Help It," penned by Stevie Wonder for Michael Jackson's Off the Wall (Epic, 1979). Spalding describes her arrangement as a dance between subtlety and effervescent eagerness. Jackson's recording was a pop song that sounded like it could easily shift to jazz. Spalding has taken that jazz element and stretched it out.

Spalding gets a touch of old-school blues-jazz with "Hold on Me." This ballad about unrequited love features pianist Janice Scroggins, drummer Billy Hart, Dr. Thara Memory and the horn section of Memory's American Music Program Band. The tone evokes images of a smoky Chicago or Kansas City nightclub.

Spalding says the concept for the album title is based on the experience of getting into a car, mindlessly flipping through the dial and catching a fragment of a song, then totally digging it. Radio Music Society may influence much digging. Each song is accompanied by a conceptual music video.