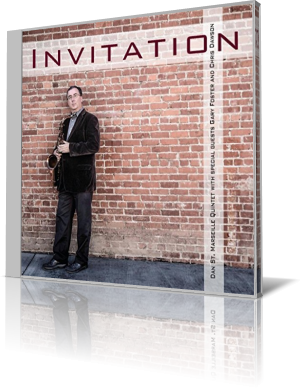 Throwing in a pair of originals with an assortment of covers, Dan St. Marseille has a license to thrill with Invitation (Resurgent Music, 2016).

St. Marseille plays tenor saxophone and clarinet. He's accompanied by Claudio Roditi, trumpet and flugelhorn; Bill Cunliffe, piano; Roger Shew, bass; and Paul Kreibich, drums. Special guests on three tracks are Gary Foster, alto saxophone and clarinet; and Chris Dawson on piano.

The title song is an elegant take on the classic composed by Bronislaw Kaper. Adapted by many jazz artists over the years, "Invitation" began as a selection in the 1950 film, A Life of Her Own. However, it became a standard after being used as the theme for the 1952 film of the same name. St. Marseille takes point on the first pass of the melody, with Roditi handling what counts for the chorus. On the second chorus, the duet shares the lead with St. Marseille deviating from the prescribed path, creating a charming harmony. What follows is jazz heaven. Roditi stretches out, occasionally dipping into the theme to supplement his free spirit. St. Marseille then steps out in purse, toe-tapping, finger-snapping style. After Cunliffe takes a turn, the song reverts to the theme. The rhythm trio is solid throughout the piece.

"Spacious," a St. Marseille original, features Foster and Dawson, the former in a duet with the leader. It's another toe tapper, with the saxes delivering one bouncy series after another. Shew is in a zone, as the bass figures prominently underneath the leads. Solos are by St. Marseille, Dawson, Foster and Shew, respectively. During the duet portions, the saxes are perfectly in synch, blending beautifully.

St. Marseille has worked with several notables, among them Poncho Sanchez, Richie Cole, Cab Calloway and Mel Torme. He has performed in Europe, Canada, and many jazz festivals including as a headliner at the Coleman Hawkins Festival in Topeka, Kansas. In April of 1999, he was inducted into the Saddleback Valley School District Hall of Fame with golfer Mark O'Meara and soccer player Julie Foudy.