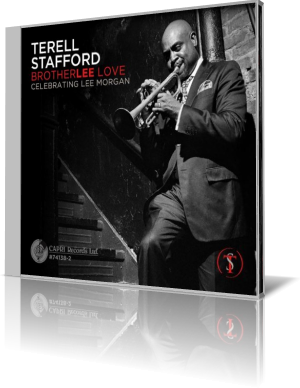 One could call it a musical love letter, brother to brother. Trumpeter Terell Stafford presents BrotherLee Love (Capri Records, 2015), a tribute to Lee Morgan.

On this date, Stafford is joined by Tim Warfield, saxophone; Bruce Barth, piano; Peter Washington, bass; and Dana Hall, drums.

The set begins with the jaunty, swinging "Hocus Pocus." Trumpet and sax blend for the delightful melody. Stafford then takes point for an extended run. He mixes some rapid-fire phrases with quick stops and turns. Warfield follows with a series of high-speed, notes-per-beat lines. Barth and Washington get to lick their chops as well. Throughout, Hall remains firmly engaged, throwing in some dexterity on the toms as Stafford and Warfield go back and forth.

"Petty Larceny" is a finger-snapping, toe-tapping tune. Stafford and Warfield join for the main phrase, echoed by Barth. It's a cool take on the Morgan composition.

While the music celebrates the style and legacy of Morgan, the arrangements here give all the players plenty of opportunity to leave their marks. The project stems from a concert at Philadelphia's Kimmel Center, and suggested by the venue's artistic director for jazz, Danilo Perez. The response to that performance and subsequent inclusion of Morgan's music in quintet sets led to this recording.

Stafford was born in Miami and raised in a Chicago suburb. However, he later embraced Philadelphia, where he became a vocal champion of the City of Brotherly Love's musical heritage. He has spent many years as director of jazz and chair of Instrumental Studies at Temple University's Boyer College of Music and Dance.

Morgan was a huge inspiration for Stafford. "Lee Morgan was a total genius," Stafford says. "The trumpet was merely a vehicle to express who he was."

Seven of the nine songs in the set were composed by Morgan. Stafford penned "Favor," and the other track, "Candy," is by Alex Kramer.