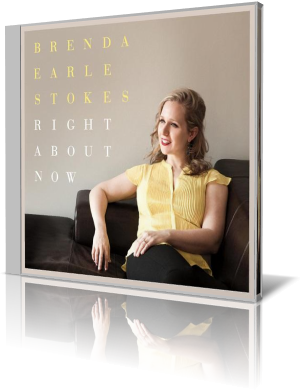 Newlywed Brenda Earle Stokes has undergone some changes over the past few years. But now that she's somewhat settled, she's back in business as a pianist, composer and vocalist. Right About Now (2014) captures seven original songs and a few remakes.

Stokes also plays Rhodes and triangle. Accompanists are Matt Aronoff, bass; Jordan Perlson, drums; Steve Cardenas, guitar; and Joel Frahm, saxophone.

"It's High Time," one of Stokes' original compositions, has an upbeat, 3/4 tempo. Stokes' inflections add emphasis on key beats. The band solidly supports the voice. One gets the sense the singer has reached the limits of patience and is ready for the object of her affections to act. This song is right at home in a smoky jazz club where most of the patrons opt for hard liquor on the rocks rather than wine, beer or cocktails. The way Frahm and Stokes play their instruments contributes to that vision. As if the song weren't enjoyable enough already, Stokes injects some Fitzgeraldesque scatting toward the end.

While Stokes' piano play is not to be overlooked, "In September" highlights the beauty and versatility of her voice. After the opening "It's High Time," where she sang with an earthier tone, "In September" brings out the soft, elegant, romantic side. Aronoff and Stokes stretch out during the interlude. Then Stokes resumes singing for the piece's climax.

"The Letters on the Pages," another Stokes original, has a contemporary vibe. The song shares Stokes' experience watching a friend struggle with mental illness. The bass is stronger in the background than on previous songs, but all the instruments are firmly engaged. With the others softly underneath, Cardenas takes point during the middle break. Note the cymbal splashes during the guitar solo. It builds up to that point of transition when the lyrics resume.

A native of a small town in southwestern Ontario, Canada, Stokes grew up listening to her father's old 45 rpm records, which consisted of music form Little Richard to Twisted Sister. She found inspiration in the apparent randomness of the different sounds. A brief introduction to Oscar Peterson in high school led Stokes to abandon classical piano studies and delve into jazz. Her career has taken her all over the world, including the Caribbean islands, New Zealand, across Canada and the United States. Among those she has worked with are Donny McCaslin, Joel Frahm, Wycliffe Gordon and the DIVA Jazz Orchestra.

Stokes is recently married and had a child. Both affected her musically, but now she's refocused. In a way, Right About Now is aptly titled.