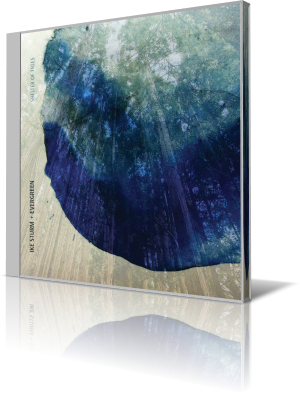 At one time, conventional thinking was that jazz was evil – devil's music. However, artists of all genres have incorporated spirituality into their music. Composer and bassist Ike Sturm does likewise with Shelter of Trees (Kilde Records, 2015).

Personnel are the bandleader's wife Misty Ann Sturm, Chanda Rule and Melissa Stylianou, vocals; Loren Stillman, alto saxophone; Fabian Almazan, piano; Chris Dingman, vibraphone; Jesse Lewis, guitar; Ike Sturm, basses; and Jared Schonig, drums.

"Rejoice" has an ethereal, haunting quality. The voices help introduce the track, like a chorus of flutes. Then Lewis goes on a free-spirited romp, aided by piano, vibraphone, bass and drums. One voice sings a phrase, which is then echoed by the other voices and the saxophone. After two passes, the sax steps out for a moment, then the music fades.

"Turning Point" offers more of the same. This time, the voices blend in wordless chants, acting more as an additional instrument. Dingman and Almazan stand out a bit, with the latter offering an engaging, adventurous solo. Sturm and Schonig are quite busy underneath.

For about 50 years, Saint Peter's Church in Midtown Manhattan has ministered to the jazz community, combining music with worship and presiding over memorial services for countless jazz legends, including Duke Ellington, John Coltrane and Thelonious Monk. The church serves as executive producer for Shelter of Trees, which is dedicated to Sturm's late father, Fred Sturm. Ike Sturm has been Saint Peter's music director for the jazz ministry since 2004.

"Bringing sacred music into a jazz setting can be uncomfortable for some people," Sturm notes. "It's not always a natural fit. For me, it grew out of my own faith. My music comes from the deepest place I have access to within myself, so my spiritual beliefs really came through and affected what I wrote."

The title, Shelter of Trees, is adopted from a poem by Cheryl Mitchell, a friend of Sturm's and fellow member of Saint Peter's.