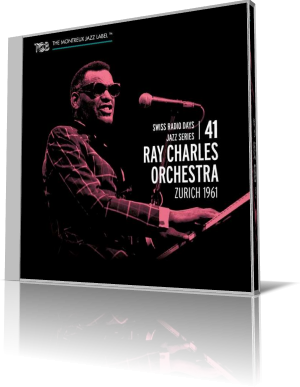 It's nearly 80 minutes of musical brilliance, presented by 17 songs. The Swiss Radio Jazz Series presents Ray Charles Orchestra, Zurich 1961 (The Montreaux Jazz Label, 2016).

It's a legendary concert recording featuring a young Ray Charles at the start of a tour that was a turning point in his career. The performers are Ray Charles, piano and vocal; trumpets: Marcus Belgrave, Wallace Davenport, Phil Guilbeau and John Hunt; trombones: Henderson Chambers, Dickie Wells and Keg Johnson; Rudy Powell, alto saxophone; Hank Crawford, alto saxophone and band leader; David Newman, tenor saxophone and flute; Don Wilkerson, tenor saxophone; Leroy Cooper, baritone saxophone; Elbert "Sonny" Forriest, guitar; Edgar Willis, bass; Bruno Carr, drums; and Quincy Jones, arranger of several tracks. Background vocalists, the Raelettes, are Priscilla "Pat" Lyles, Margie Hendricks, Gwen Berry and Darlene McCrea.

Set highlights include "Happy Faces," "My Baby," "Sticks and Stones," "Georgia on My Mind," "Hit the Road, Jack" and "I Believe to My Soul."

As Ray sings his signature, "Georgia on My Mind," Newman answers each vocal phrase with a response from the flute. Charles sings with a range that goes from whispery to churchy, from tender to punchy – finding the right voice for the music.

This recording is considered a landmark in the career of Ray Charles. The big band may have been the ideal platform to deliver jazz, done Ray's style by mixing his brand of soul, and rhythm and blues.

Ray Charles is one of the most versatile musicians to achieve fame, his sound touching on several mainstream genres, including blues, gospel, rock and country. And his following is just as diverse, transcending ethnicity, politics, nationality or other humanity divisions. He was born in Albany, Georgia, in 1930. He lost his vision as a child and was made by his mother to continue to do chores, to learn how to care for himself despite the handicap. He became an orphan at age 15, but didn't let that stop him. After attending the Florida State School for the Deaf and Blind, he moved to Seattle, Washington, where he made his first recording.

Ray Charles Orchestra, Zurich 1961 is vintage Ray Charles.