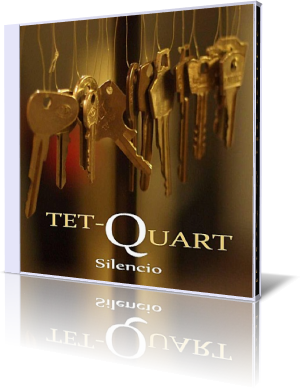 Two years after coming together, the members of Tet-Quart went to the studio to record their first CD. The result, released in late 2010, is Silencio (Low Man Productions), an ambient selection of mostly original titles.

The quartet is comprised of Teo Gomez, piano and keyboards; Carlos Franco, drums and percussion; Arturo Mora, electric bass; and Alex Cid, tenor saxophone.

The songs are deceptively tranquil. Most begin softly, slowly, setting the listener up for something laid-back – relaxing. That mood doesn't last long. Even though the sound is relatively quiet, it's energetic and moderate to fast-paced.

"Un lugar en la vida," written by Mora and Gomez, establishes the pattern. After a modest introduction, things heat up with the tenor out front. The pace continues through the piano solo. Then, during a middle break, it's all stop. Gomez performs a placid soliloquy, then gradually builds up for the rest of the band to re-enter. The bass line is solid.

A slight deviation from the template is "Traicion," which opens with drums only. Once the rest of the band comes in, there's an exchange between sax and bass. The song downshifts, with Cid taking point. Franco and Mora lay down the groove while Gomez delivers a keyboard solo that's part charm, part funk – sort of like Eumir Deodato meets George Duke.

Tet-Quart is solid throughout. Each musician gets his moments to shine, but they also work well as a unit. The tenor sax being one of the more versatile instruments, it is a bit disappointing that Cid's play is confined to middle notes. He does a good job with the material given, but he could really crank up the heat if he expands his range.