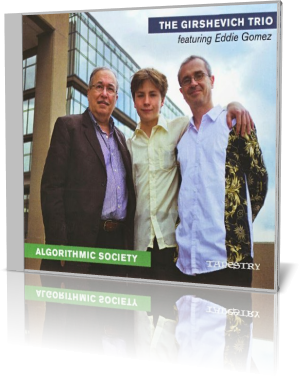 Three generations of talent come together for the debut recording of the Girshevich Trio, Algorithmic Society (Tapestry Records, 2016).

The trio is comprised of Vlad Girshevich, piano and synthesizers; his son, 12-year-old Aleks Girshevich, drums; and Eddie Gomez, bass. Special guest Rony Barrak appears on "Healing the Chaos," playing the darbouka, riq and daf – respectively, a hand drum, a tambourine-like instrument and another type of drum.

"Healing the Chaos" is a mixed media piece. The opening sequence is a simple, pop trio offering. Then it shifts briefly into something of Hungarian classical, featuring a string section. Back to the acoustic trio, the piano thrills out front, with subtle support from the synths. Meanwhile, the bass line is riveting, and the drum track keeps it all together. After another pass on the Hungarian, Gomez takes point. They engage in a call and response with Barrak, who answers with his trio of hand percussive instruments.

A steady pulse on the high-hat is part of the landscape of "300 Years Ago." It's a moderately paced song. Vlad delights throughout. Aleks maintains that pulse no matter what else he does with the kit. Gomez glides back and forth between a base rhythm and improvised fills. In the final third, father and son enjoy a call and response session of their own.

A classically trained pianist from Uzbekistan, Vlad Girshevich began training at the age of 4. He became interested in jazz as a teenager. He moved to Colorado in the 1990s and has performed with an array of jazz artists, including Stanley Jordan, Ernie Watts and Arturo Sandoval, among others.

Aleks released his first album, Tomorrow, at age 11, earning high praise from Critical Jazz and All About Jazz. He was named one of the Best Student Musicians of 2015 in DownBeat Student Music Awards in the category of Jazz Soloist – Drums.

All nine tracks of Algorithmic Society were written by Vlad and Aleks Girshevich.