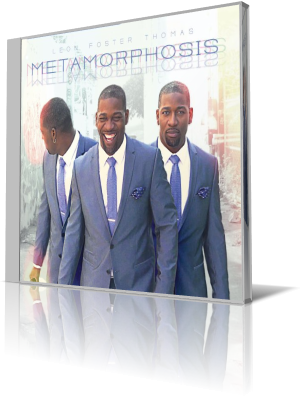 Perhaps there's a subconscious connection between Leon Foster Thomas and the late Muhammad Ali. They hit hard, hit fast and keep moving. Thomas' new recording,
Metamorphosis
(Ropeadope Records, 2016) is loaded with punches, counterpunches and poetry in motion.
Thomas plays steel pan and percussion. Accompanying him are Martin Bejerano, piano; Kurt Hengstebeck, upright and electric bass; Michael "Mike" Piolet, drums; Jean Caze, trumpet; Daivd Palma, tenor sax and flute; Fernando Ulibarri, guitar; John Daversa, trumpet and electronic valve instrument; and Sammy Figueroa, percussion.
Thomas lights you up from the first note. "Kai – Fusion" has a dynamic opening, blending the pan and horns before they give way to a bass-led groove, complemented by the drums. The melody, if any identifiable phrase can be called this, is a series of overlapping riffs with some combination of guitar, pan and horns out front while the others counteract. Many of these are high-speed passes. Things settle down some, and Palma takes over. Piano, bass and drums mix it up in the background, while the tenor goes on an adventurous jaunt. Upon a mood change, the guitar joins in to set up the solo's climax. Things mellow a bit when it's Thomas' turn. But he, too, cranks up the heat as he gets deeper into the groove. As a listener, you might be blown away by the leader's skill, but don't get too entranced. You might miss something. Caze and Ulibarri get their moments to shine as well.
Daversa joins the cast, playing the EVI, for "Unknown Memory." Augmented by a broken-time rhythm, Thomas sparkles and shimmers in the lead. Daversa's part gives the song a bit of an Andy Narell meets the Yellowjackets vibe. Though it's a valve instrument, as opposed to Bob Mintzer's EWI, the sound is nearly identical. Thomas and Daversa stretch out together for a busy, buzzing finale.
A native of Trinidad, Thomas was born on August 25th, 1981, in San Fernando. He credits his parents, Hillouise Louise and Loderick Rollo Foster, for his musical voice, and the pan yards of Trinidad and Tobago for his early music training. He was awarded the Visual and Performing Arts Most Outstanding Student and graduated with a bachelor of music degree at Florida Memorial University, the only historically black college or university in Miami. Thomas is a prominent figure in the Miami music scene, performing jazz, Latin, rock, gospel and hip-hop.
Metamorphosis
continues the Thomas tradition of delivering music that is delightful, interesting and just all-out fun.