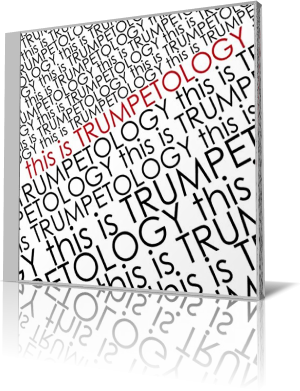 Maynard Ferguson. Doc Severinson. Louis Armstrong. Randy Brecker. The list goes on. The trumpet is a longtime favorite lead instrument in jazz. And Dr. Walter Simonsen celebrates that legacy by presenting his group, Trumpetology, and the album,
This Is Trumpetology
(Simonsen Sounds, 2016).
Five trumpet players are combined with an acoustic rhythm section and one rapper.
The "ologists" are Walter Simonson, vocals on "I Wish"; James Blackwell; Brian Owen; Tim Gill, vocals on "Summertime"; Brian Mantz; and Cameron Summers. The "rhythm-ologists" are Kait Dunton, Cooper Appelt and Jake Reed on most tracks; and Adam Bravo, Alex Frank and Adam Alesi on three songs.
The ensemble delivers a playful rendition of Lee Morgan's "Sidewinder." The arrangement keeps things familiar, with the multitude of trumpets merging for the melody being the primary difference. A succession of solos by Owen and Blackwell is followed by a slick bass lead by Appelt, accented by rim shots on the drum kit. The rhythm trio is solid throughout.
Clifford Brown's "Blues Walk" is given the same type of treatment. Featured soloists are Blackwell, Owen, Simonsen, Gill, Mantz and Reed.
This Is Trumpetology
revisits some jazz classics composed or performed by legendary trumpeters like Lee Morgan, Miles Davis and Freddie Hubbard. The arrangements presented by the trumpet ensemble playing as a group and soloists makes a lasting impression.
Simonsen has performed with several luminaries, including Steve Miller, Bob Mintzer, Radiohead and Alicia Keys. He has performed at the 51st Grammy Awards and the 62nd Golden Globe Awards. And he has been the main arranger and lead trumpet of the Los Angeles Lakers Band for about 10 years.