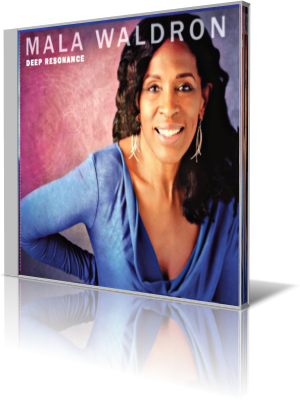 It's just a lady and her piano, with no more than one or two accompanists per track. Mala Waldron presents Deep Resonance (Soulful Sound Music, 2016), a short set of original music, plus one cover.

Waldron sings and plays piano. Her accompanists are Vincent Gardner, trombone; Allen Won, bass flute; Akua Dixon, cello; Jonathon Perez, percussion; and Maurizio Rolli, fretless bass.

"Life Is Now" begins slowly, softly with the piano accompanying a throaty trombone lead. Then, it settles into a bright, up-tempo groove. Waldron's earthy voice joins in, with lyrics that speak of hope and a eye toward the future. After the interlude, trombone and voice harmonize on the melody. Peretz's play injects an African feel.

Won joins on "Free as the Wind (Margot's Song)," a tribute to Margo Durand, for whom the project is dedicated. The lyrics speak of someone whose existence exuded positive energy for people and things around her. Piano, flute and percussion come together, sounding at times more like a band than a trio.

Waldron is a native of New York City. She began professionally singing backup to an R&B band, Liquid Pleasure, at the Elk's Club when she was 15. She later enrolled at State University of New York to study jazz piano, voice and composition. She has toured internationally. And as an educator, she has conducted vocal workshops in Italy. Previous recordings include Lullabye, a solo debut and tribute to her godmother, Billie Holiday; He's My Father, a duo project with her father, Mal Waldron; and Always There, named one Jazz USA's Top 10 albums of 2006.