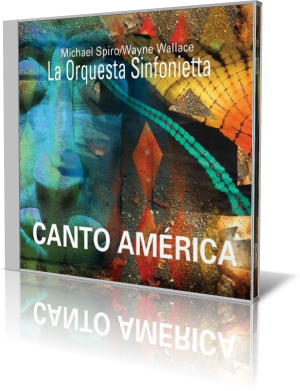 It's the Wayne Wallace Latin Jazz Quintet, only it's not. Wallace and band mate Michael Spiro collaborate for the Michael Spiro/Wayne Wallace La Orquestra Sinfonietta Canto America (Patois Records, 2016). It combines the quintet with a full string section and an assortment of other players.

Wallace plays trombone and euphonium. Spiro plays percussion and does arrangements for all but the first and last songs, which are arranged by Wallace. For most tracks, they are aided by their usual partners: Colin Douglas, drums, percussion; David Belove, electric bass; Murray Low, piano. Other players are numerous and varied, depending on the song. Among some of the more prominent guests are Mike Mixtacki, vocals on four tracks and lead on "Hispaniola"; Joe Galvin and Kirstin Olson, vocals and percussion on several tracks; Brennan Johns, trombone, bass trombone, mellophone and French horn on several tracks, and the primary string ensemble who perform on all but two songs: Daniel Stein, principal and violin; Charlene Kleugel, Maria Jose Romero and Nidhal Jebali, violin; Yoni Gertner and Tze-Ying Wu, viola; and Ethan Young and Brady Anderson, cello. A string quartet featuring Stein, Wu, Young and violinist Min Ju Kim join for two songs. And a 15-piece horn section joins for "Afro Blue."

The strings and Belove open the dynamic "La Propaganda De Hoy." The song shifts to a drum and percussion virtuoso, with Douglas and Spiro flexing their muscles throughout. A flute and more brass add some nice touches. The full ensemble mostly carries the melody, with Douglas and Spiro enjoying much of the spotlight with fills, brief solos and exceptional accompaniment. Edgardo Cambon and Fito Reinoso sing Spanish lyrics, setting up Wallace's throaty solo before the song's end.

"La Propaganda De Hoy," music by Wallace, lyrics by Spiro, is dedicated the Cuban musical group, Los Van Van and its recently deceased director, Juan Formell.

The epic "Afro Blue" opens with an African chant. Jesus Diaz is lead vocalist, with Mixtacki, Galvin and Olson backing. It begins in slow, steady fashion with most emphasis on the voices and the rhythm. Then, about four minutes in, the pace changes and the rest of the orchestra comes in. The horns are out front, at times with the saxophones overlapping the trumpets and trombones. Spiro and Douglas carry the 6/8 beat, and Belove's bass line is noteworthy. The horns eventually step back, giving Low space to stretch out. His play here is a mix of strength and beauty. Wallace follows, taking the listener on a journey of discovery. Then all stop except Spiro and Douglas, welcoming the voices back. The signature changes to 4/4 but maintains the same degree of intensity. Calloway's flute enters, flitting about like a songbird or butterfly beautifying the landscape. It's the rare 12-minute song that seems shorter as it goes through changes that are like separate pieces unto themselves. Masterful.

In his four-decade career, Wallace has collaborated with many stars, including Count Basie, Stevie Wonder, Sonny Rollins and Carlos Santana. He is founder of the label Patios Records. He has received seven Grammy nominations, most recently 2015's Intercambio. Spiro has performed on each of Wallace's nominated albums. His performances include dates with Ella Fitzgerald, McTyner and Santana.

Canto America has extensive liner notes, wherein Spiro and Wallace share their thoughts on the culture of Latin music and the mixing of genres that include jazz and European classical. Also, each song has notes about the track itself, a description of the music and a listing of the instrumentation. All of it comes together for a valuable addition to anyone's music collection.