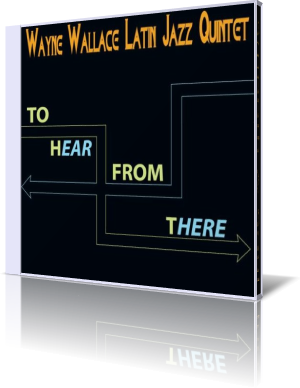 Trombonist Wayne Wallace has a passion for the interplay of a quintet, whether it's only two members of the group or all five. His passion comes through clearly on To Hear from There.

Wallace formed his own label, Patois Records, in 2006. Big record companies don't invest much in jazz or Latin music, so he thought doing it himself would be the best way to get his music across to the general public.

Doing it himself gives Wallace freedom to play the music that moves him, rather than conforming to commercial forces that often dictate the contents and even the approach to more mainstream genres. His sidemen are Michael Spiro on percussion, David Belove on bass, Murray Low on piano and Paul van Wageningen on drums.

"Serafina Del Caribe" is bound to get the feet moving. The throaty trombone phrasing is just part of the joy of listening to this. Wallace makes the instrument growl through one sequence. The title is derived from the influence of artwork that depicts angels playing trombones, popular in Spain and Latin America. Additional trombones are played by Jeff Cressman, Dave Martell and Natalie Cressman.

Kenny Washington sings lead on the adaptation of "Perdido," originally penned by Puerto Rican trombonist Juan Tizol and recorded by Duke Ellington. The title word is Spanish for "lost," but nothing gets lost here. Washington's voice is smooth and maintains a straight jazz element despite the Latin rhythm. After an extended piano solo, Washington performs a scat worthy of Ella Fitzgerald or Louis Prima.

Wallace's !Bien, Bien! was nominated for a Grammy award and named one of 2010's best releases by DownBeat magazine. Again blending jazz with Afro-Cuban themes and Latin influences, Wallace scores another hit with To Hear from There.