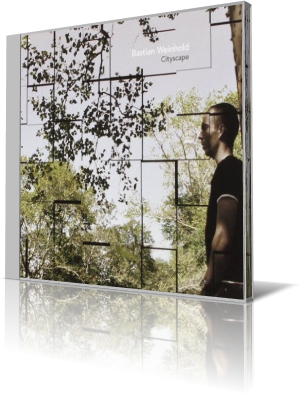 He's there, but his bandmates enjoy most of the spotlight. That's the approach taken by German drummer Bastian Weinhold for Cityscape (Frame Music, 2015).

Accompanying Weinhold are his brother, Nils Weinhold, guitar; Adam Larson, saxophone; and Raviv Markovitz, bass.

The title song is a bright, moderate piece. Guitar and tenor blend on the introduction and melody. Then, Larson steps out. The drums do more than keep time, holding the rhythm while mixing the lines. Bass and guitar enjoy plenty of variance as well. After a moment, Larson steps aside, and Nils Weinhold comes forward. As the guitar expresses, bass and drums seemingly go their separate ways, while still remaining part of the unit.

"Alone" begins as a somber tune. Larson carries the melancholy lead, with guitar and bass answering his lines. The drums are subtle. Larson plays the tenor softly, almost at a whisper. With guitar and drums toned down, Markovitz stretches out, amplifying that sense of isolation. When Larson returns, his mood is brighter, indicating solitude isn't necessarily bad. As he warms up, the others become more engaged. This mood extends for the remainder of the song, suggesting that being alone is an opportunity to be productive while getting in touch with oneself, yet staying connected – if only marginally – to the outer world.

Bastian Weinhold was born in 1986. After high school, he moved to the Netherlands to study jazz at the Conservatory of Amsterdam. From there, he moved on to the New School for Jazz and Contemporary Music and the Manhattan School of Music in New York City. In 2009, he moved to New York to continue study at the Manhattan School. Since the move, Weinhold has performed or recorded with such musicians as John Escreet, Seamus Blake, Dave Liebman, Jonathan Kreisberg, Miguel Zenon, Linda Oh and Phil Markowitz. Weinhold has performed at New York City's major venues, including Carnegie Hall, as well as international jazz festivals and jazz venues. He is working as a performer and educator, and has given workshops and clinics around the world.