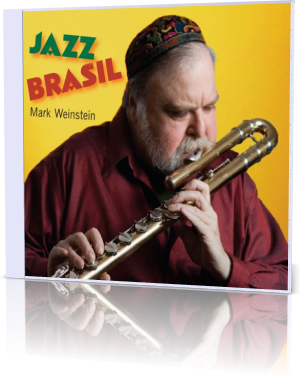 There's long been a partnership of sorts between jazz and Brazilian music. Numerous jazz artists, from Stan Getz to Lee Ritenour, have married the two styles. Flutist Mark Weinstein continues the relationship with Jazz Brasil (Jazzheads).

Weinstein played piano as a child and later the trombone. But his career as a bandleader has been marked by his play of the flute. On Jazz Brasil, he plays concert, alto and bass flutes. He's accompanied by Kenny Barron on piano, Nilson Matta on bass and Marcello Pellitteri on drums and percussion.

"I Mean You," a Thelonious Monk title, opens the set in a festive mood. The syncopation of the band is tight from the start. Weinstein is the feature, but his sidemen also stand out – in the background as well as during solos. There's a spirited call and response between flute and drums that segues back into the primary theme.

One of the most often recorded Brazilian pieces is Ary Barrosa's "Brazil." The intro is soft, subtle, but the song quickly shifts into samba mode. Weinstein's treatment keeps the melody recognizable, but the flute gives it a strong, Herbie Mann feel.
Mann's classic "Memphis Underground" is given a fresh, sassy groove. Weinstein and the band play it with a subdued but delightful swing. Matta and Barron add to the fun with their middle solos.

Weinstein and Matta composed one song each for this set. The rest are new arrangements of Brazilian-style pieces of Antonio Carlos Jobim, Wayne Shorter and Joe Henderson, as well as those already mentioned.

With the success of recent releases Con Alma, Timbasa and Straight, No Chaser, Weinstein has established himself as a proficient mixer of jazz with Latin, Brazilian and world music styles. Jazz Brasil reinforces that notion.