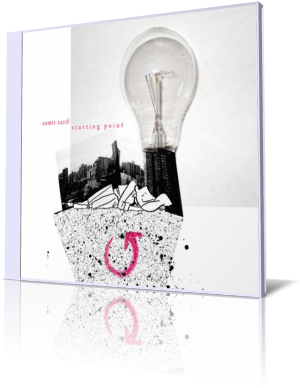 New artists tend to play it safe, adopting one commercial format or another, and trying to make it work. However, Samir Zarif doesn't subscribe to that notion. Starting Point (Mythology Records, 2011), his debut as a leader, doesn't conform to any prescribed formula.

Zarif, a native of Houston, Texas, plays soprano and tenor saxophones and electronics. He is accompanied by Zack Lober on acoustic and electric bass, Colin Stranahan on drums and percussion, Greg Ritchie on drums, Maria Neckam on vocals and Lars Dietrich on alto sax.

"Circle of Truth" begins ominously with the saxophones toning up over a subtle bass and percussive soundscape. Neckam lends her ethereal voice, adding to the song's haunting quality. The song doesn't have a melody to speak of. It's more like an audible abstract painting, with the bass, drums and vocals as background colors to the centerpiece of Zarif's tenor sax.

"The Old Man's Box" is a free-form, instrumental prelude to "The Story of the Old Man's Box." Zarif uses the spoken word to narrate, underscored only by electronic sounds.
Zarif and Neckam perform a vocal duet on the melancholy "This Life." They blend beautifully, accompanied by acoustic bass and saxophone at first, and later joined by drums. They also perform a wordless chant underneath the sax.

Starting Point is not for those who expect catchy hooks and elements of pop or hip-hop. It's a symphony, orchestrated by a small jazz ensemble. The songs are all part of Zarif's life story, each musically capturing his thoughts and emotions.

Zarif began playing violin as a child and later adopted the saxophone. His professional associations include Neckam, Ellis Marsalis, Jason Marsalis, Nicholas Payton and Aaron Neville.