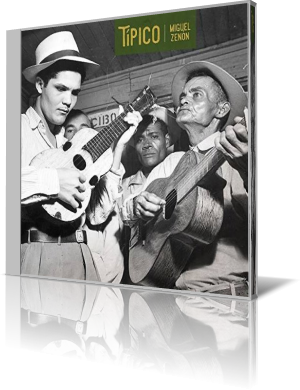 Saxophonist Miguel Zenon has brought in additional instruments to augment his band's music. However, for Tipico (Miel Music, 2017), he decided to stay "closer to home." The goal is to highlight his personal and professional life, as well as the uniqueness of his group.

Zenon plays alto saxophone. His companions are Luis Perdomo, piano; Hans Glawishnig, bass; and Henry Cole, drums.

"Academia," inspired by Zenon's teaching at the New England Conservatory, is mixed bag. The opening starts with a steady phrase repeated by the piano. Then the alto pitches in some high-speed rolls. A couple of shifts later, and we have something that more closely resembles a melody. With the others setting their own stamps, Zenon puts the sax through an intense, blistering jaunt. The horn wails at key points. Meanwhile, piano, bass and drums heat up. The energy continues to build until another shift. Things mellow considerably for Perdomo's interlude. It begins softly, but soon kicks into overdrive. Zenon comes back in for a furious finish.

The title song refers to something that's customary to a region or group of people. "And when I was writing this music," Zenon says, "I was thinking about music that identified us and this band." Written words cannot adequately express what the ears receive on this piece. Except to say that the music exemplifies the overall goal to showcase the quartet's cohesion in group mode, and support of one another when one instrument is out front.

The final three songs, "Corteza," "Entre Las Raices" and "Las Ramas," have two things in common. Each was composed around a solo or rhythmic line that one of the musicians had played before. And each title is derived from a part of a tree: bark, root and branch, respectively. "I was thinking of the band as a tree," Zenon says. "And thinking of myself as the watcher. I mean, I'm part of it also. But mostly I'm observing these amazing musicians night after night, and how together they kind of make up this living organism."

Zenon is a multiple Grammy nominee, and a Guggenheim and MacArthur Fellow. His music bridges Latin, American folk music and jazz. Born and raised in San Juan, Puerto Rico, he has recorded and toured with a variety of notables. Among them are Fred Hersch, Kenny Werner, Bobby Hutcherson and Charlie Haden. Zenon is also a founding member of SFJAZZ Collective, a group based in San Francisco that emerged in 2004.