The long awaited 1st annual Smooth Jazz Festival 2008 was hold in Bregenz August 29/30th. The town is located on the eastern shores of Lake Constance, the third-largest freshwater lake in Central Europe, between Switzerland in the east and Germany in the northwest. Visitors came from all parts of Europe: Germans, Austrians, Swiss, Dutch's, Italians, French's, even Russians were sighted. The event was packed with top-acts, the weather was fine, the venue first-class and the management of Bernd Leinfelder, Christian B÷▀ner and their crew engaged and very gentle. The excellent catering-service delivered with cocktails and nouvelle cuisine the feeling of Californian wine yards to the lake shore. After Michael van Droff, who organized Smooth Jazz events years ago, this was the first endeavor to bring smooth jazz to Europe again.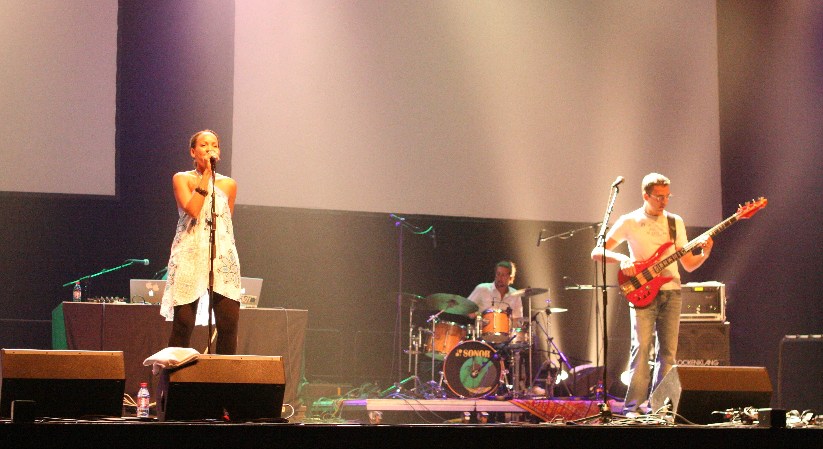 The event opened by the Italian group Gabin. The band consists of the musicians Massimo Bottini and Filippo Clary. While Clary works in Rome as a dj, is Massimo Bottini an experienced jazz-bassist who performed with Billy Cobham, Joe Scofield and other cats of the jazz scene.
Their self-titled debut-album contains their first hit Doo Uap, Doo Uap, Doo Uap. (It has that sample of Ella Fitzgerald singing "It don't mean a thing if it ain't got that swing" over and over again, a 1931 composition by Duke Ellington with lyrics by Irving Mills). This song was also released on the H˘tel Costes compilation #5. They also performed Into My Soul (a hit produced with Dee Dee Bridgewater on their album Mr. Freedom).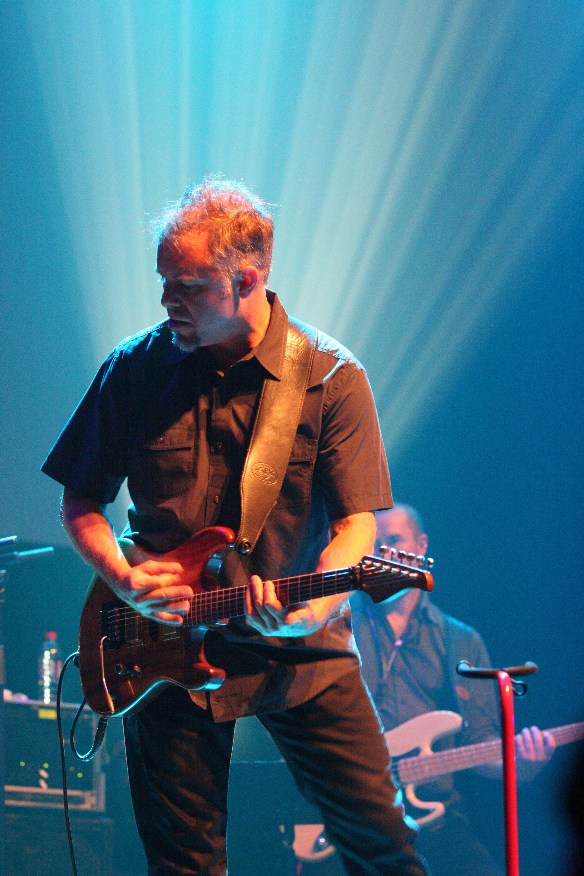 First top act of the evening was the formation of Chieli Minucci (guitars), Alex Bugnon (keyboards) and Marion Meadows (sax) supported by Pat Appleton's band. Chieli himself is probably best known today as head of the Grammy-nominated Jazz-band ôSpecial EFX", which he co-founded with the late George Jinda. The performance was an abridged version of the usual program because they only performed a few tunes, two of the jazz fusion genre.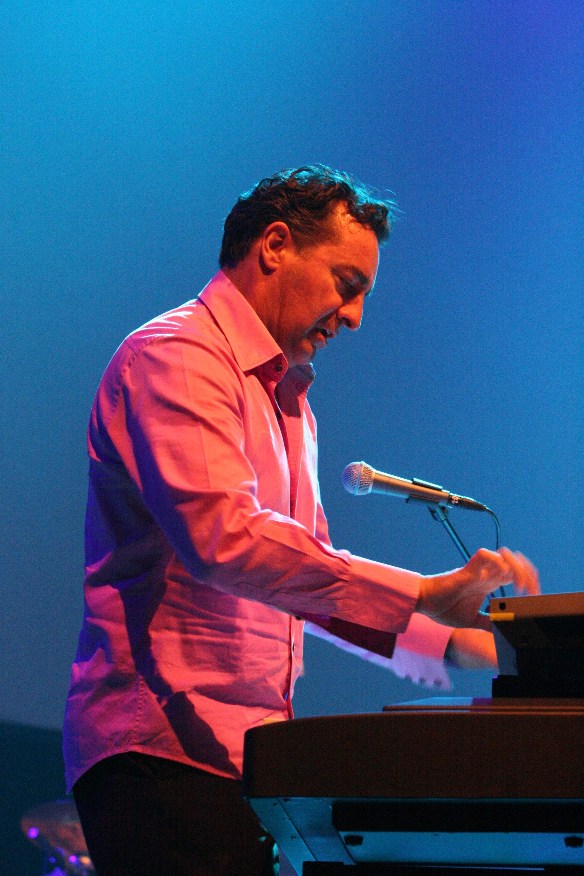 The second tune was composed by Alex Bugnon. It was a surprising jazz fusion performance because we are used to Alex's mellow ballades. A further tune is often played by Chielli and was recorded for his album Renaissance (1996), Cause We've Ended As Lovers. This rendition of a Stevie Wonder hit showcases Chielli's soaring guitar and Marion Meadows on sax.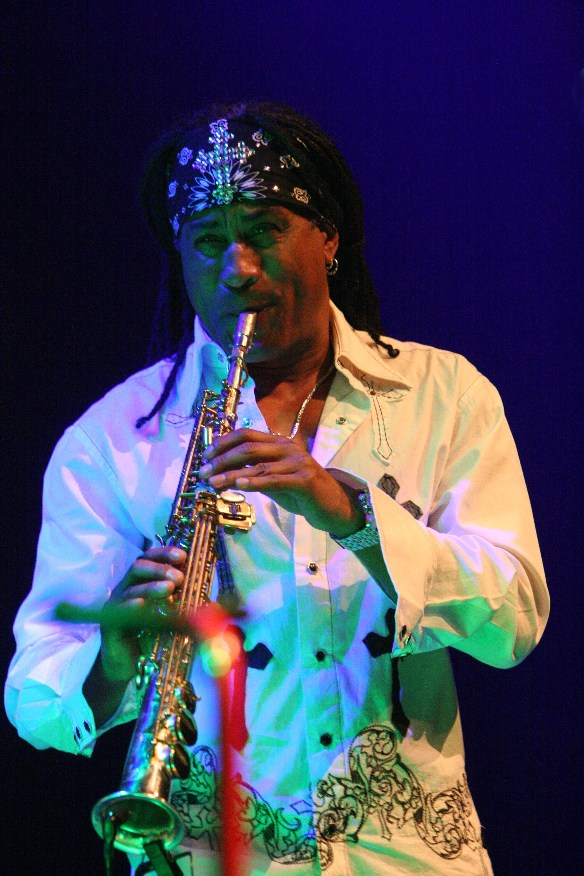 Marion is called the Womanizer and the jazz-loving ladies worldwide know why. He had definitely a nice weekend. The audience called for an encore, all requests were in vain.
Top-act of the evening was the German group De Phazz. The Heidelberg band De Phazz was founded in 1997 by Pit Baumgartner as an open band-project. They got famous, among others, with their radio hit The Mambo Craze from their second album Godsdog. The name De Phazz is derived from destination
f(ph)uture jazz.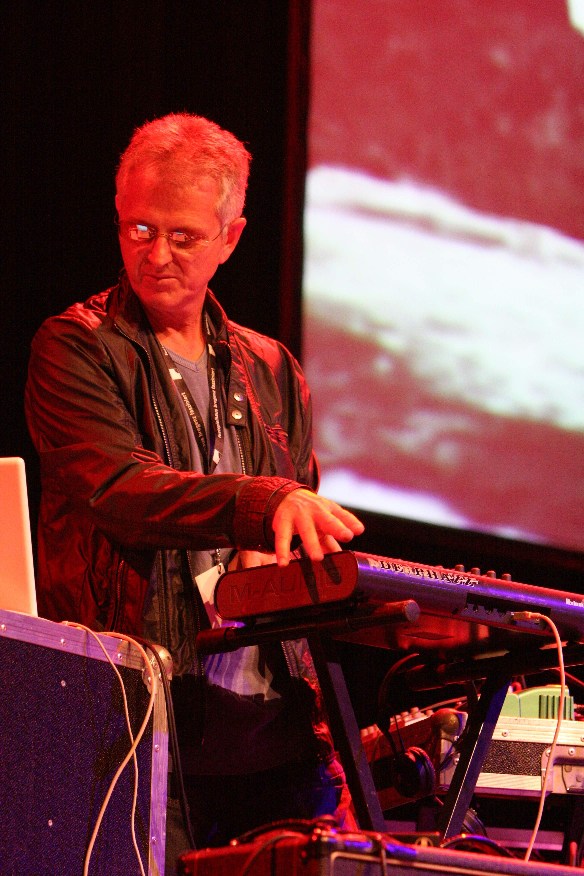 Mastermind Pit Baumgartner at the rehearsal with a typical movement.
On live acts the group is fronted by the singers Pat Appleton and Karl Frierson, both great entertainers and singers. Pat's lascivious movements and Karl's jokes are welcoming extras to their soulful vocals. Karl's shattering James Brown scream happened again. Save yourself this cry, Karl! Please! We still join your crusade.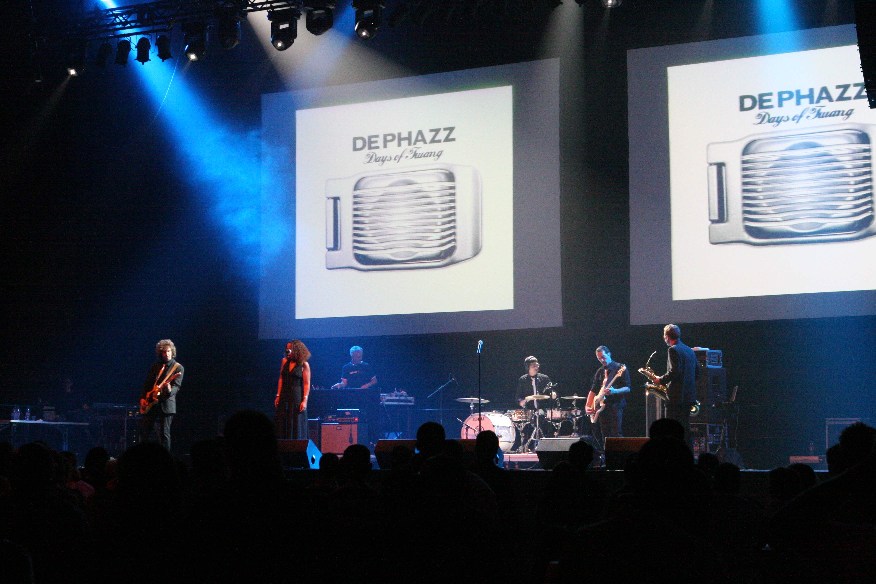 De Phazz heavily showcased tracks from their latest album Days of Twang (2007). The cover of the album was screened on the great canvas during the show. The group is known for their downbeat jazz, chill out and lounge music which was enjoyed by the crowd.
Late after midnight the evening was finished by Praful's sound experience. Sax-, Flute- and Bansuri- player Praful is a native German who chose Amsterdam as his home base in the late 80's. Over the last two decades he has emerged himself in Jazz, Dance, Trip Hop, Latin and West African Music and especially in the musical cultures of Brazil and India. In the states he is best known by his albums One Day Deep (2003) and Pyramid In Your Backyard (2005).
On Saturday the festival was opened by Pat Appleton and her band. Pat has a diverse style reaching from Rock, to Pop, Soul and more.
Pat presented songs from her debut-album album What's Next? (2007). From the African-flavored Homeland in the style of Angelique Kidjo to the appealing Nudity, that was a big package for the audience. Her live performance is a lot more rockish as on her modest album.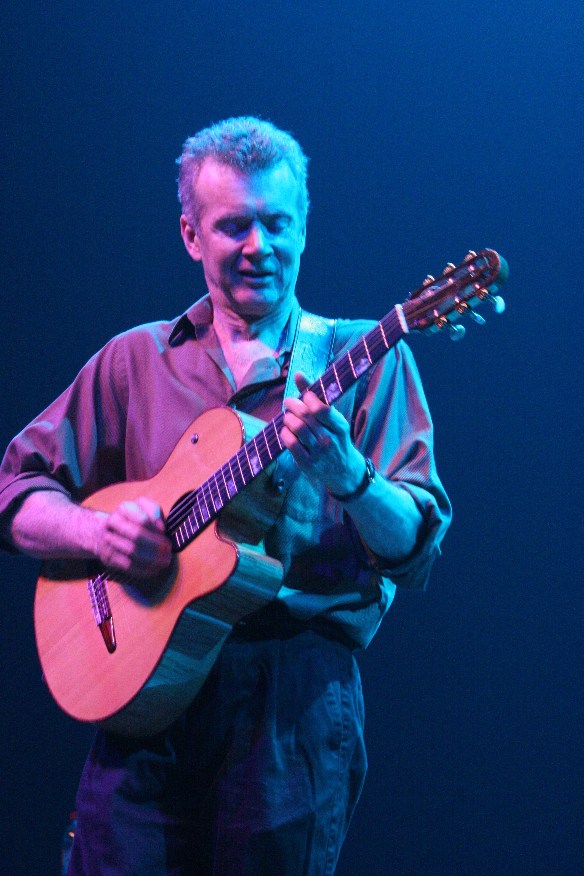 First main act of the evening was undoubtedly Peter White, who was joined by Jaared and Rocco Ventrella on sax, later by Marion Meadows as surprise act.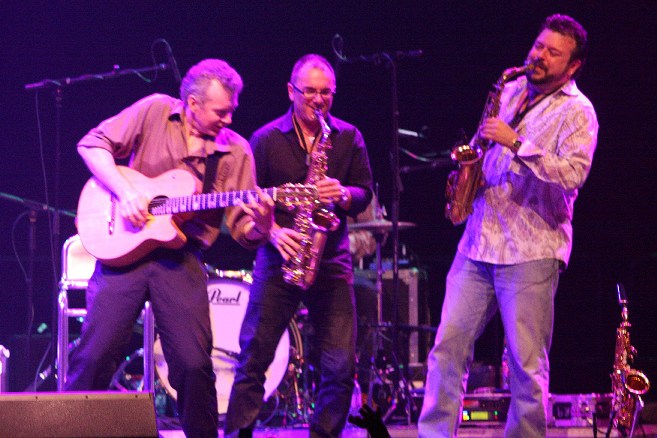 Peter presented highlights of his previous albums like Who's That Lady, a demand of the management, the Led-Zeppelin-flavored Bueno Funk, Promenade, The Closer I Get To You, the propelling Papa Was A Rolling Stone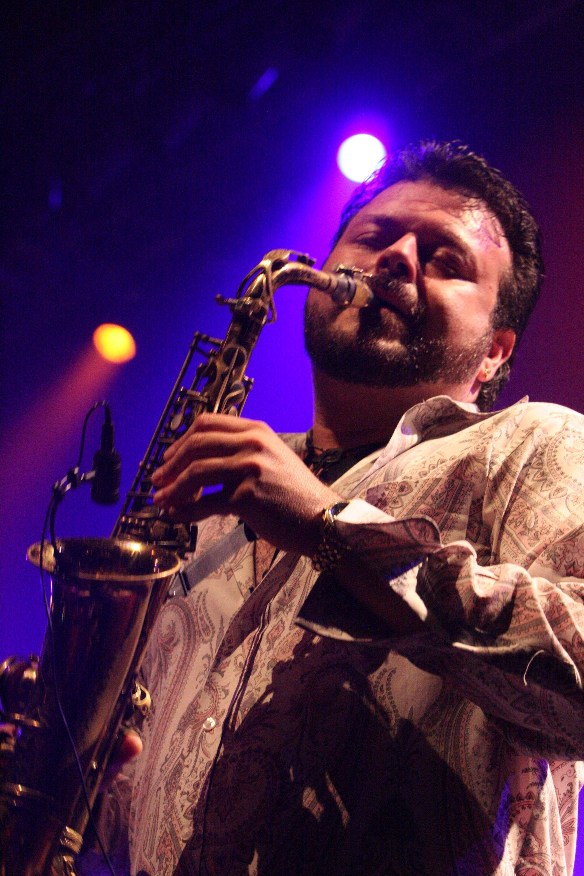 and also a hit of Jaared's new album Addiction, the rendition of Earl Klugh's Jamaican Winds.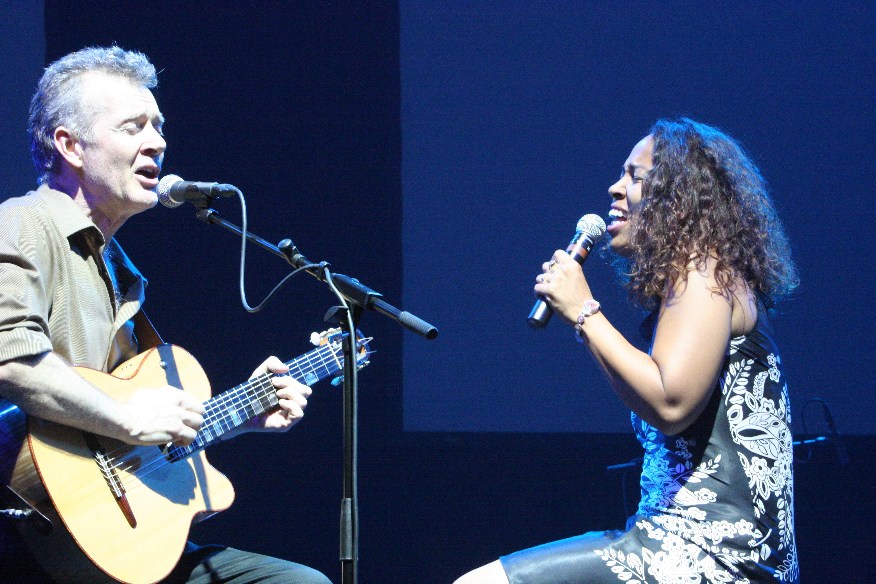 Peter White fulfilled Pat Appleton's great wish to sing with him Basia's Just Another Day. The first time I had the opportunity to listen to Peter's vocal performance. At the end of Peter's show Marion Meadows joined the team to perform with the others Deep Purple's Smoke On The Water.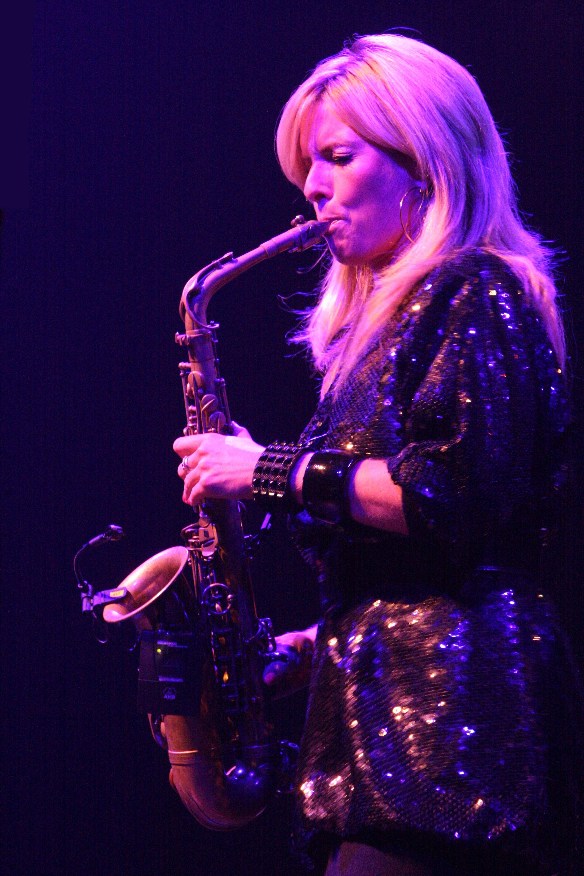 Top act on Saturday was Candy Dulfer joined by her band and a new singer. Candy presented songs of her new album Candy Store like Summertime and Everytime. The tune also encompass Jan van Duikeren's awesome horn arrangement in the tradition of Tower of Power.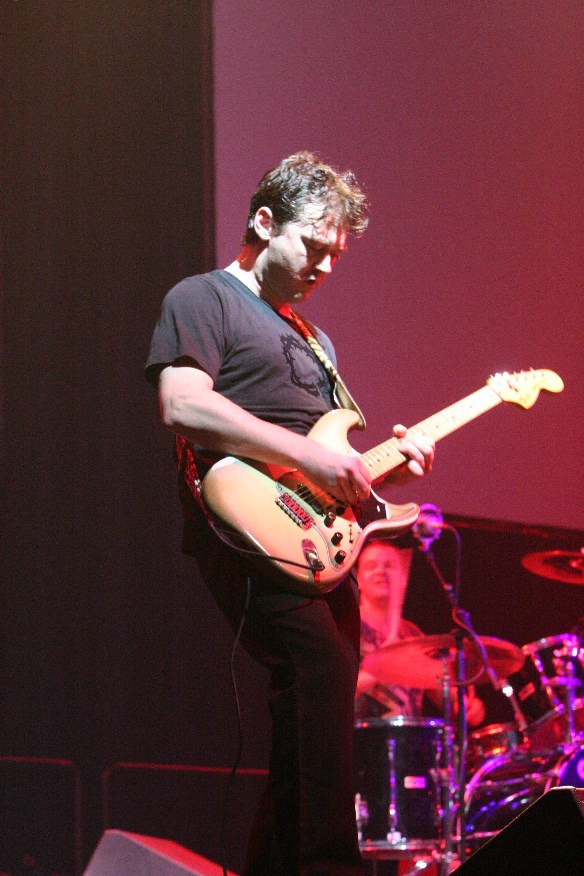 Further highlight was Candy's world-hit Lily Was Here, which she re-recorded with Dave Stewart for his new double-album The Dave Stewart Songbook Vol.1 (2008). Dave Stewart's role played guitarist Ulco Bed. He is also responsible for the funky rhythm in Candy's group Funky Stuff. So to hear on Pick Up The Pieces by the AWB and Funky Nassau with which Candy cooked the audience.
Life Of The Party was a noteworthy part of the show. A tune which Prince had recorded for his album Musicology (2004). This song is part of her program since Prince has released the album. Candy has recorded the tune together with Prince and strongly believed that he composed the song her in mind. Famous words of Prince: "When I Need Sax, I Call Candy".
Anew Candy performed a duet with drummer Kirk Johnson. Candy followed Kirk's beat in such a breathtaking tempo that even Jaared, who observed Candy's concert, was deeply impressed. Sax-A-Go-Go (1993) should also be mentioned as part of her program.
The festival was closed by Adani & Wolf, backed by Rocco Ventrella.
My thanks to Bernd Leinfelder, Christian B÷▀ner and their crew for creating such a great festival. There are not many idealists from that caliber like these guys. They have promised to continue this event and I am absolutely confident that they will succeed in this endeavor. So visit www.smoothjazzfestival.de next year again. It is worthwile.