Munich is one of Germany's most popular cities. The town offers a wide range of seasonal and other events beside its attractions in buildings, history, architecture, arts and shopping opportunities. So it was a properly thought-out decision to let the 2nd German Smooth Jazz Festival 2009 take place in the capital city of Bavaria. The festival was organized in a former power station called Kesselhaus. The designers of the location attached importance to the illumination of the technical items giving the place a special atmospheric flair.
The festival opened at Friday, the 4th September with Canadian Smooth Jazz star Steve Oliver. He was performing songs of his album One Night Live, which is a combination of a CD and a DVD,
recorded during a concert at the State Theater, Modesto, CA. On this festival he played Chips and Salsa, Fearless, First View, Good To Go, High Noon, Magic World, Radiant Dream and Show Your Love.
Oliver comments. "The live shows are such a huge part of my life that I'd go insane if I wasn't out there playing as often as I am. Music is a living, breathing thing, and I honestly feel that being up onstage is the safest place in the world. I feel like I'm transported to a whole new and cool place where I lose track of time."
Steve Oliver is well known by his brilliant combination of guitar and vocals with a vivid appearance on every show. Part of his concerts is also the Guitar Demonstration showcasing the limitless possibilities of modern guitars. Steve especially uses synth guitars he designed with Carvin called NS1 (Nylon Synth) and the electric guitar SH575. These guitars are connected via midi with the Roland (Boss) GR-33 guitar synthesizer which bases on the Roland JV-1080 sounds. This way Steve can nearly performs every keyboard sound which is part of the Roland sound family. performing a Bach fugue, a string sound or a bass is no problem with this modern technique.
Incredible also his beat boxing skills imitating percussion, trumpet or anything else. But Steve received the most applause for his interaction with the audience throwing song phrases to the audience and getting an immediate echo. This way Steve stirred up the audience to the best mood.
A further highlight of the show was his rendition of John Lennon's Imagine which he interpreted with great emotion. He was perfectly supported by the German group called Heavy Mellow Quartet from Berlin, which accompanied all foreign artists of this festival. This group consists of Stefan Machalitzky (guitar), Volker Meitz (keyboards), Björn Werra (bass) and Kai Schönburg (drums), who often exploded into drum solos. This group had to manage more than 50 songs and performed them flawlessly by simply reading the notes from the sheets of music. The group has furthermore a tremendous grasp of things as I could observe during the rehearsal.
Steve was followed by Michael Lington, an artist hailing from Copenhagen, Denmark and since March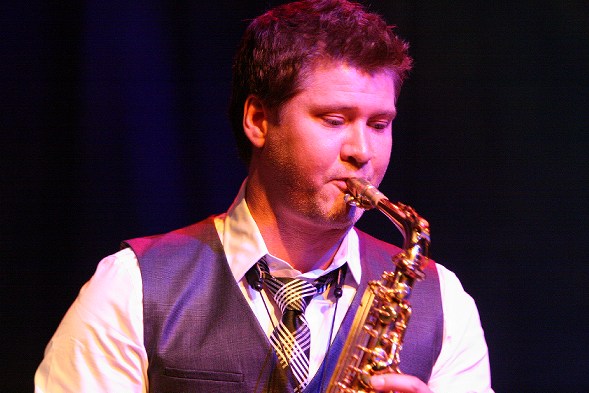 2008 a US citizen. Michael's newest album Heat was released in 2008 on NuGroove Music. He presented tunes like Still Thinking, Pacifica, Two Of A Kind, Twice In A Lifetime, You And I, Show Me and Everything Must Change. It's obviously a tradition of many sax players to dive under the crowd like I previously have seen in a concert of Eric Marienthal.
So it was a great pleasure for Michael to walk to the audience, where he played his song especially for a couple which was dancing to his song.
The audience was cheering and hollering, when Steve Oliver joined Michael Lington onstage performing Bill Withers' classic Ain't No Sunshine. By the way a lot of people in the audience took photos and videos. Some of them are already published at YouTube. The audience was multi-international, some came even from the States to attend this terrific event.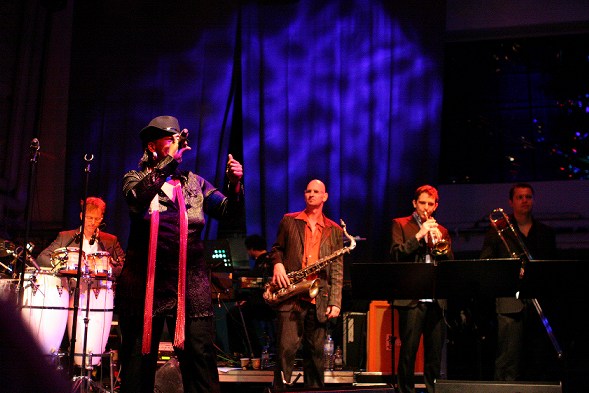 Next in line on Friday was the German formation Club des Belugas featuring the American singer Brenda Boykin and Swedish singer Anna-Luca. The group presented nujazz and lounge projects combined with Brazilian Beats and American Black Soul of the fifties, sixties and seventies, using their unique creativity and intensity. We left the festival after the first tunes returning to our hotel, which we reached after a walk of twenty minutes.
A Saturday in Munich offers great opportunities. My Suisse friend Peter Boehi who runs Smooth Jazz Vibes visited with some other friends the Hofbräuhaus enjoying the German beer, while my wife and I made a sightseeing and shopping tour in the pedestrian zone of Munich discovering culture and goods.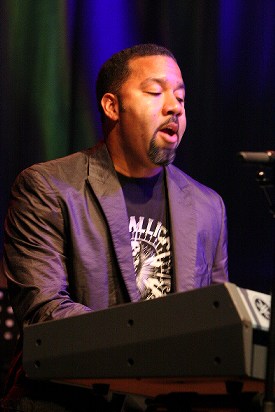 In the evening the festival was opened by keyboardist Marcus Johnson. Marcus' life is spectacular. Following the advice of his parents he studied law, but never practice it. He founded with businessman Robert L. Johnson the label Three Keys Music signing artists like Bobby Lyle, Jaared, Michael Lington, Joey Summerville, Nick Colionne and others. He established the full-service recording studio, Studio 8121, where he also teaches music seminars. He has been morning host on Washington, DC's Smooth Jazz 105.9. He teaches a music business development course at Bowie State University. Beside these activities he released fifteen albums while constantly touring the States and abroad. Where does he take all that time for his music business?
His new album is entitled Poetically Justified (2009). A great show was the performance of Danni's Song, an intricate interpretation of jazz master Cannonball Adderley's Moanin' (taken from the album FLO Standards) and other songs of his big catalogue of albums like Doc's Groove, Ellicot City, Master Of My Heart, This Place Hotel and Say Yes. On one song Marcus was caught in a loop for several minutes creating a terrific excitement in the audience. Finally he was joined by former label mate Michael Lington.
Highlight of the second festival day was the power formation Peter White, Richard Elliot and Rick Braun. These musicians are the most in-demand artists of the smooth jazz genre. Peter White just released his album Good Day (2009), Rick Braun his album All It Takes (2009), and Richard Elliot his new project Rock Steady (2009). Richard and Rick are currently touring as Jazz Attack. While both were promoting their new albums Peter didn't play his new songs, because the album was released only a week after the Smooth Jazz Festival. Anyway, we will interview Peter about his new album soon.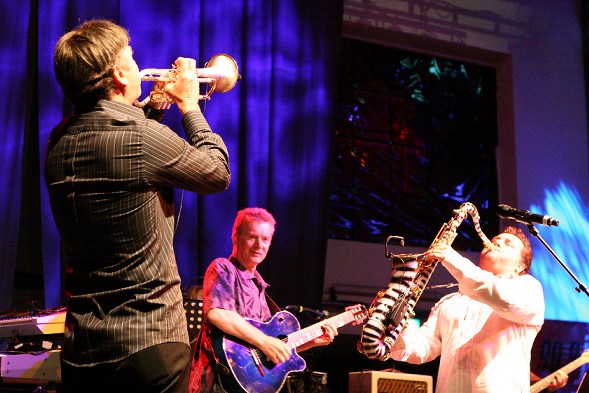 Promised!
The formation started with Tijuana Dance, a song from Richard's new album. It's Rick's musical tribute to the stellar trumpet player Herb Alpert, he adores since his youth. A dynamic song, just the best to heat up the audience. Promenade was the next signature song taken from Peter's same-titled CD (1993). Next in line was a medley of Richard Elliot's Rock Steady and Move On, a rendition of Curtis Mayfield's legendary hit. I owned that LP in my youth and played it to Orcus on my gritty Dual record player. All three are high professional musicians and that way we could see a great show with all the gimmicks, duels and jokes they can offer.
They also performed Notorious, which is quasi a Rick Braun jazz standard and probably one of his best songs. The same is to say about Peter White's Who's That Lady from his album Glow. Peter White grew up with the songs of the Beatles and The Rolling Stones, which he easily could copy but for his further idols, The Isley Brothers it took a little longer as Peter grinning remarked onstage. It were these three magical words he couldn't resist.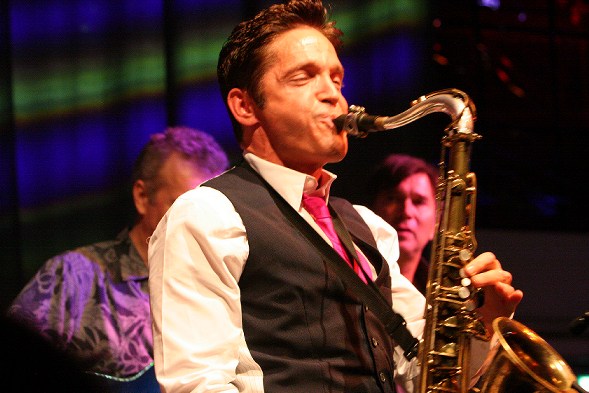 Further songs the all-stars group performed were The Stylistics hit People Make The World Go Round, Curveball, Grover Washington's unforgettable Mr Magic, Who, Green Tomatoes, Secret, Peter's great hit Bueno Funk and Hugh Masekela's unbeatable megahit Grazin in the Grass, which Rick Braun revived on his album Sessions 1. Surprise guest was Dave Koz, who joined the group on this last song. Great fun for audience and musicians.
Last top-act at Saturday was platinum-selling sax player Dave Koz, accompanied by keyboardist Brian Simpson. Dave is not only known by his music, his newest album is Greatest Hits (2008), but also as host of Smooth Jazz Network's nationally distributed afternoon show. A six-time Grammy nominee, Dave will be honored next week with a star on Hollywood's Walk of Fame. He has played with such musical luminaries as Burt Bacharach, Ray Charles, Natalie Cole, Celine Dion, U2, and Rod Stewart.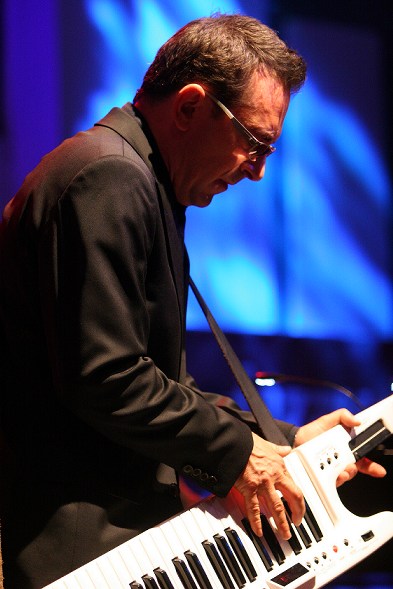 Look at the photo, how he smiles. Prince Charming Dave Koz started his session with Intro in B followed by Life In The Fast lane. This sultry but dynamic tune was released on his album Greatest Hits.
After the song Dave left stage and Brian Simpson took the lead. Brian Simpson has always been a working jazz musician. He has toured with some of the greats of recent jazz history, including George Duke, Stanley Clarke, Larry Carlton, George Howard, Billy Cobham, and Gerald Albright. Since more than 10 years he is the musical director and keyboardist of Dave Koz. His newest album Above The Clouds was released on Rendezvous Entertainment in 2007. Brian presented It Could Happen, Whatcha Gonna Do, Let's Get Close, Saturday Cool and It's All Good. The tracks were taken from his albums Above The Clouds and It's All Good.
Brian chose for his performance a Roland remote shoulder synthesizer, which is popular under keyboardists, because one can move onstage while playing. Powered by eight batteries one can play approximately six hours, but I never heard about someone who did it. Brian preferred an intimate performance concentrated on his instrument.
After Dave's return onstage they performed Honey Dipped from Dave's album Saxophonic, one of Dave's most popular songs. The following Together Again had the same uplifting quality and the audience was in great move dancing and hollering.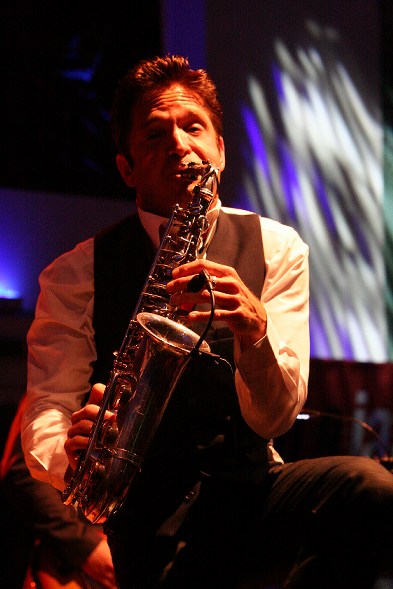 With Over the Rainbow Dave performed a contemplative song from his album At The Movies. This concept album comprised a collection of timeless film melodies. The song was written for the movie The Wizard of Oz, and was sung by Judy Garland in that movie.
Next song was All I see Is You, the second song taken from the album Saxophonic, obviously more uplifting. On My Love Michael Lington shared the stage with Koz in a sax duet.
Further tunes were Blues in G, Brian Simpsons' Because Of Love, an ode to his time briefly touring with the superstar Janet Jackson, You Make Me Smile from Dave's album Lucky Man and finally Michael Jackson's I'll Be There, which Dave covered on his album The Dance.
Those smooth jazz fans, who cannot get enough I recommend to embark the Smooth Jazz Cruise 2010, where Dave Koz will show his live performance again. This cruise is already sold out and the wait-list counts more than 1.200 entries, but who knows? There will always be an opportunity to see him again.

Final act of the Smooth Jazz Festival 2009 was the Smooth Jazz Brunch with European, Asian and American dishes in the new BRANCHE - restaurant, bar and lounge - at the hotel Golden Tulip Munich Schwabing. Host of this show was keyboardist Marcus Johnson accompanied by Björn Werra (bass) and Kai Schönburg (drums). The restaurant was packed, Marcus Johnson performed his FLO Jazz Lounge show and the dishes were superb and plentiful. Marcus also played his caught in a loop again with the already known effect.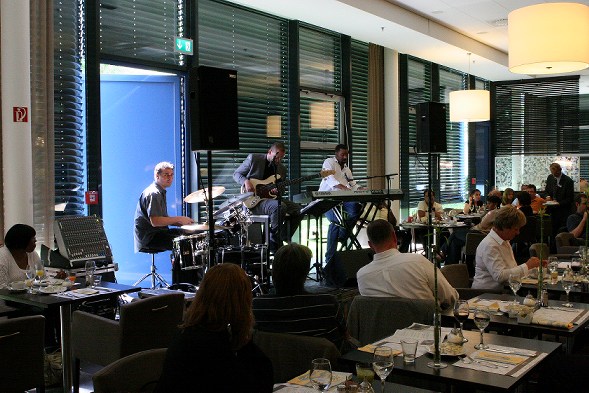 Near by the restaurant was Dave Koz hanging around in the bar with several guests, which were talking with him. Dave, you are never alone! Marcus Johnson asked him to join the jam and some minutes later Dave gave his final encore on this great festival.
The second Smooth Jazz Festival in Munich was a tremendous success. Smooth jazz aficionados from all over Europe and USA enjoyed three days of music and fun. Promoter of the festival was Christian Bössner, who managed the festival with great sovereignity and experience. Christian, thanks a million for your commitment.
Finally I disclose the best-kept secret. We will have a Smooth Jazz Festival in 2010!