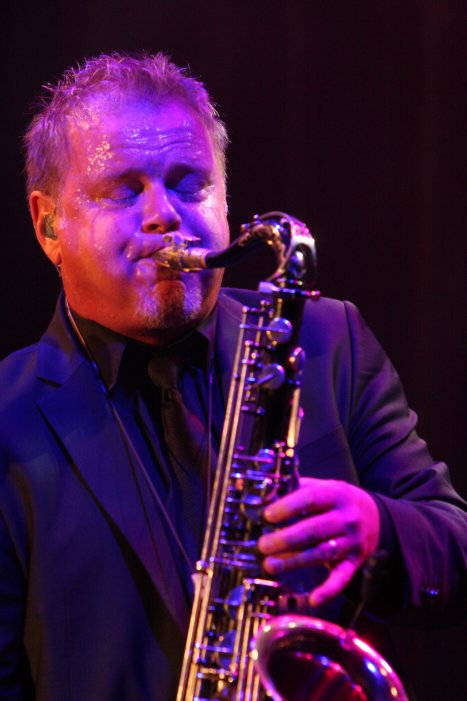 Top act of the Saturday Night show was sax sensation Euge Groove. He led in his concert with Got 2 Be Groovin' from the same titled album (2014). Got 2 Be Groovin' is Euge's uncompromising motto. Whatever happens in the world, he has to groove. So he left a lot of steam onto this piece. Faithful Central from his album House Of Groove (2012) was the next song. Euge can interact with Kenny G in competition when it comes to the best combination of sweetness and enchanting melody like this one.

With Still Euge he presented the title song of his latest album. Making old school to something new or carrying the flame of jam into the future is his intention. Livin Large was a track from the Narada time (2004). With Sneak a Peak Groove had his breakthrough on mp3.com and later on his debut album (2000). Slam Dunk is from his second album Play Date on the Warner Brothers label (2002).

Miss Bane emerged as a love ballad, for which Kenny G would not have to be ashamed of. Chillaxin' is a tune from his Narada album Just Feels Right (2005). From the same album is the cover of the Temptations hit Just My Imagination. On Love, Passion And Joy from Still Euge Euge and Lee Thornburg (East Bay Soul) creates harmonized horn arrangements of the finest. Groove often performed to the sequenced first sax his sax solo or the second voice to recall these harmonies.

On Old. Edu Euge borrowed some melody structures from old Motown hits to accelerate the attraction of the tune. Listeners with a good sound memory were pleased by the musical cites. The gospel approach from 2007's Born 2 Groove was another crowd pleaser. Final tune was From the TOP, a song taken from Play Date.

The audience expressed its gratitude with an outburst of applause, and multiple standing ovations.

The greeting to the new year was marked by a grandiose jam session. The atmosphere was heated up with the popular hit Happy and a shower of confetti. The Allstar-Band consisted of Oli Silk, JJ Sansaverino, Euge Groove, Elan Trotman and Jeanette Harris.

For the night owls, who made the night a day, DJ Richard Edwards put on a lot of hot discs till to the early morning.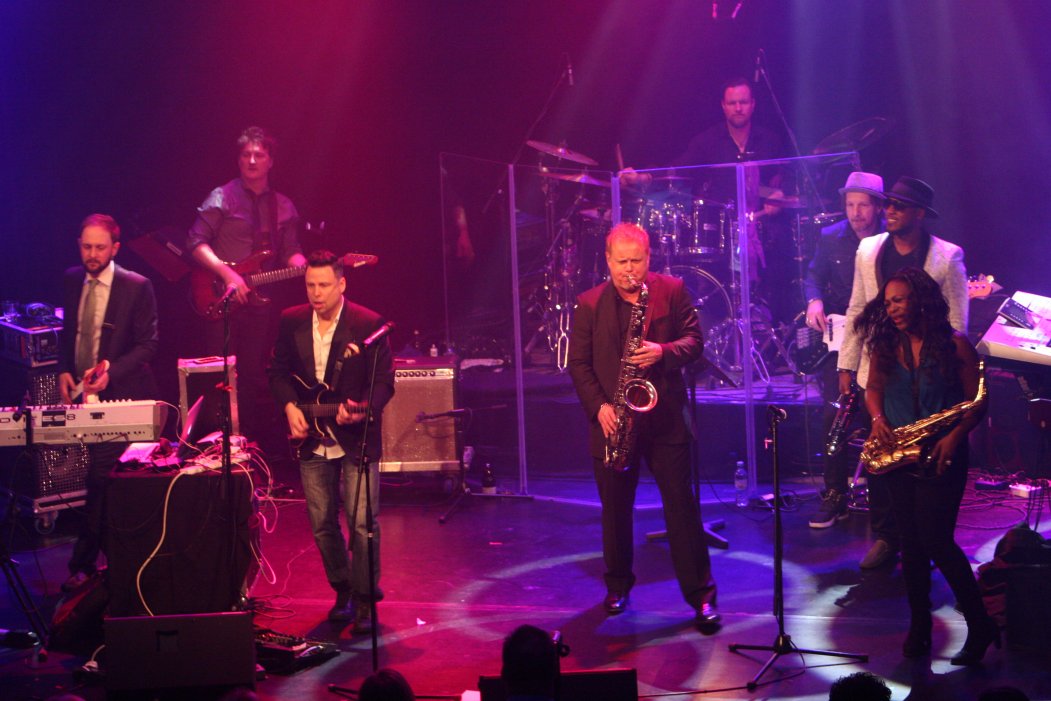 On Sunday the core of smooth jazz enthusiasts remained at the Dorinth Hotel in Augsburg, where the final act of the Smooth Jazz Festival 2016 took place in a conference room in the basement of the hotel tower. Singer Lindsey Webster, the surprise star of the year 2017 opened the set with the title song from her brand-new album Back To Your Heart (2016). Already on her previous albums Lindsey flirted with timbre and style of the most famous singer Sade. On the lead single Back to Your Heart she has perfected this skill to breathtaking similarity. Nevertheless she doesn't bend her own personality, which flashes superbly in many passages.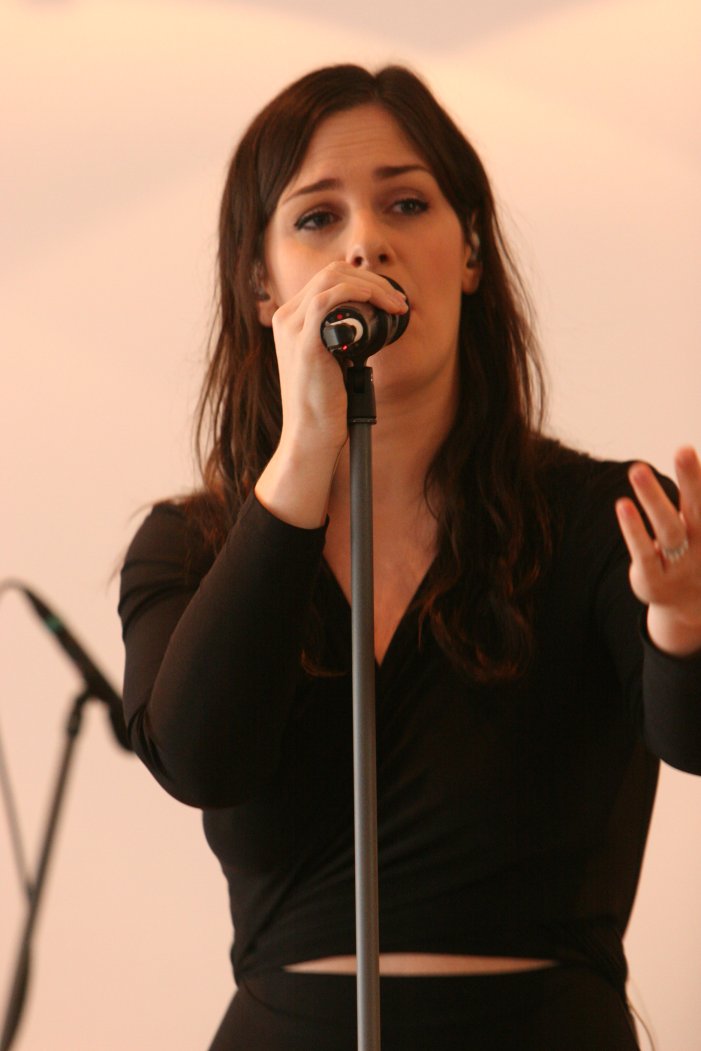 Her strength of expression gave Where Do You Want to Go a delicate decor of vividness and individuality. I Know You Well was less an intimate description of a relationship, as a platform of manifest vocal artistry. Those Three Words chose the reciprocal approach. Lindsey's voice became a gentle breeze of affection with a touch of romance. Lindsey was accompanied by her husband and keyboardist Keith Slattery, who revealed his great skills during the session.
The event continued with Open Up, a song from your album You Change (2015). A lyrical excursion into love. Call My Name is a song by Prince, from his 2004 album Musicology. Lindsey recovered the female side of this ballad. I Feel Good by James Brown is another song on which Lindsey could shine in various facets. Fool Me Once is also a single release from the album You Change. The human relationship is like often the center of interest. Further songs from her repertoire were Take a Long Walk and Ain't it Funny, an utterly explosive vocal firework.
On Our Way had the dynamic and tension curve of Grover Washington's Just The Two Of Us. Holding the tone in such a flamboyant way initiated applause on this live event. Final song was Baby I Love You, a song that can be heard in various video clips on Youtube.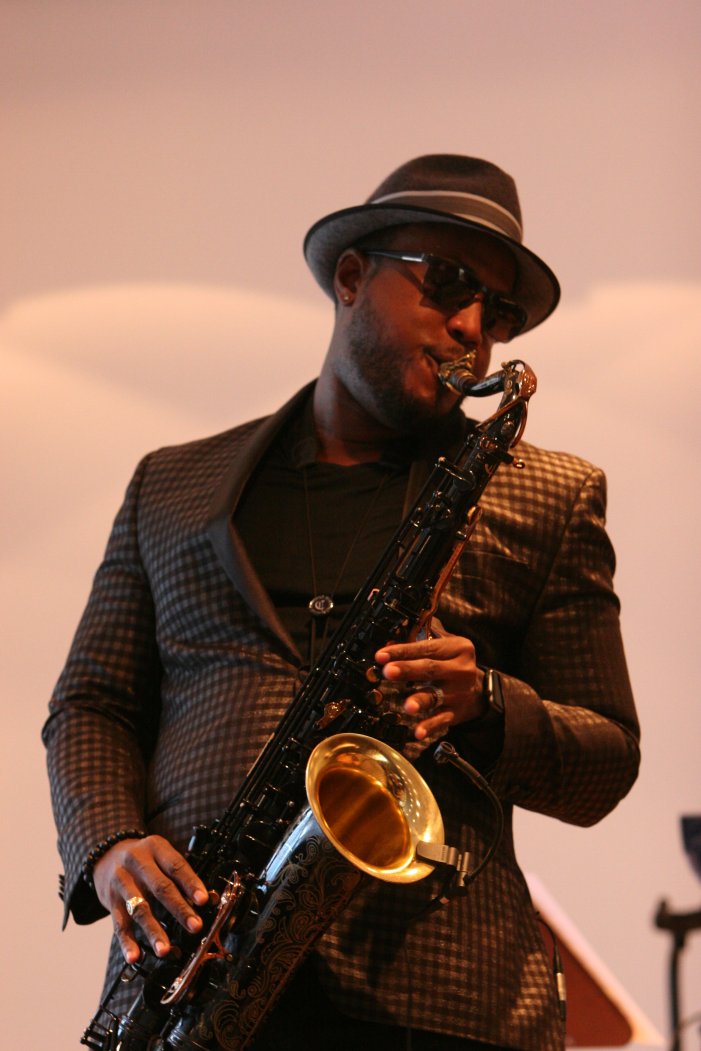 Saxophonist Elan Trotman finished the festival with an impressing stage presentation starting with the phenomenal Tradewinds from his album Tropicality (2013). Elan lives in America, in Boston. But he was not born in America, he was born on the Caribbean island Barbados. The music he was listening to in his youth was a happy, tropical music. Elan wrote the song together with Peter White as a tribute to this little island. Elan took the audience with him on a little journey from Germany to this island with his music. "Close your eyes and imagine, that you are in Barbados with a nice drink with an umbrella and its 90 degrees outside. And the white sands and the waves and the birds are chirping". The Calypso style tune spread its magic and the audience was captured in a positive mood.
Bill Wither's Lovely Day was not only performed on sax. Elan took Bill Wither's vocal part and he did it astonishing well. As a graduate of Berklee School of Music, in Boston Elan knows jazz in all its facets. Chick Corea's instrumental jazz fusion composition Spain is integral part of his repertoire and he didn't hesitate to demonstrate his jazz skills in Augsburg. Got to Give It Up, a cover of Marvin Gaye song was the next highlight.
Sun Goddess (1974), a re-union with Maurice White and Earth, Wind & Fire was Ramsey Lewis' most successful album. Elan made this song to his own. 100 Degrees from his album Tropicality Double Take (2016) was another burner. As, a song written and performed by Stevie Wonder from his 1976 album, Songs in the Key of Life, was perfectly interpreted by Elan. The cover single landed at #16 on the Billboard Smooth Jazz Radio chart.
Every Breath You Take by the group Police is often played by Elan with his group. It's also a part of the studio jams, Elan recorded with pianist Tom Schuman, drummer Rocky Bryant, bassist Keith Horne and guitarist Dean Brown. So Elan brought this song to the stage again. Love On Top, a song recorded by American singer Beyoncé for her fourth studio album 4 (2011) was newly interpreted by Elan as final song of his show.
The festival had already started on Thursday with the UK-group Shakatak and saxophonist Jeanette Harris as top acts. For personal reasons we could not attend this event. We hope that Christian and Sandra will decide to continue the festival in Augsburg this year. I will keep you informed on my blog smooth jazz buzz.