Saturday night was opened by local hero and guitar wonder Marc Antoine. A true gypsy by lineage and lifestyle, Marc Antoine is like a musical sponge, soaking in everything around him at all times. "If I'm walking in New York," he says, "and I hear a salsa band in a club nearby, I get in that mood and immediately start thinking of writing a tune in that style." His goal every year is simply to travel everywhere and anywhere his wanderlust and muse take him.
When you hear the name of a known artist, you associate a special style or music with this musician. Classical Soul (1994), Urban Gypsy (1995), Madrid (1998), Universal Language (2000), Cruisin' (2001), The Very Best of Marc Antoine (2002), Mediterraneo (2003), Modern Times (2005), Hi-Lo Split (2007), and Foreign exchange (2009) are indices for Marc's Gypsy and Latin influenced contemporary jazz. With his latest album My Classical Way (2010) Marc leaves the contemporary jazz style and creates his music on classical themes.
His recent heart disease had him thrown a little off course and forced him to cancel a number of concerts. These physical impairments were not to observe on this event. He was in the old freshness and vigor.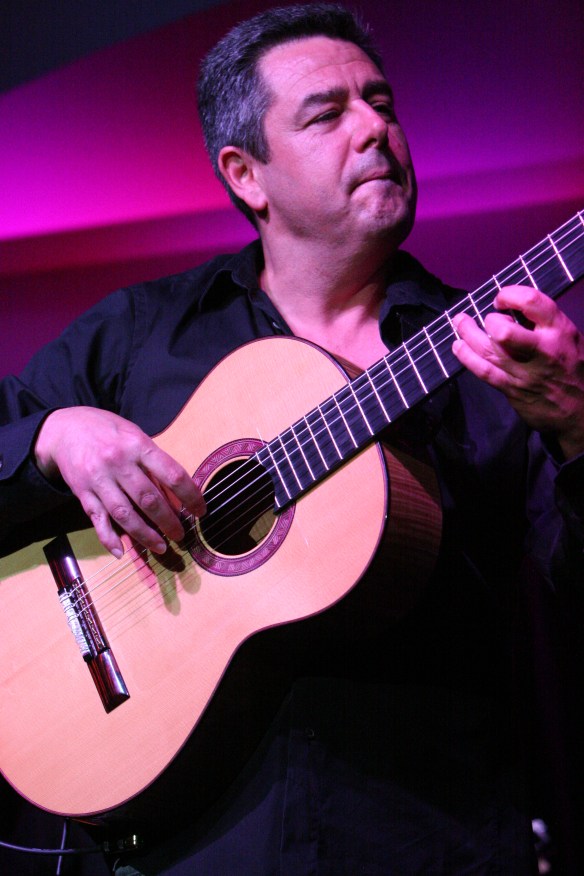 Marc started his concert with On The Strip, a typical summer breeze from his album Cruisin' (2001). With his romantic Spanish guitar he quickly spellbounded his audience. The next song Latin Quarter from his album Urban Gypsy (1998) is certainly his signature hit, which still receives lots of airplay. A piece with a high recognition value. The audience was grooving with the infectious melody.
In his early 20's Claude Debussy wrote Reverie. Marc transforms this theme into Dreamer, the first presentation from his album My Classical Way (2010). Mas que Nada, Jorge Ben's world hit from his first album Samba Esquema Novo (1963), ignited the second stage rocket of general enthusiasm.
The song Spooky was new arranged by Buddy Buie and lead guitarist J.R.Cobb, both part of the group Classic IV and later as part of the group The Atlanta Rhythm Section. This song from the '60s found Antoine's relaxed expression. The second song from the album Hi-Lo Split (2007), the title tune was a jam tune in the spirit of the Spanish Flamenco school.
Classical Soul from Marc's legendary same titled album (1994) was another blissful song enthusing the listeners. Funky Picante from Mediterraneo had the same stunning impression. In the spirit of the best to last Marc enjoyed his fans with Sunland from his album Madrid (2003) . He finished the concert with the encore Spain, a new song he first performed at this festival accompanied by Warren Hill. Both have just recorded the song in Marc's studio for his upcoming album.
Marc developed during his concert a cozy atmosphere, where the audience clearly felt well. No wonder were in the audience also Marc's wife, Rebeca, and his son Alex, who together with Marc used the weekend for a short holiday. A great smooth jazz family.