It was one of the last sun-splashed days in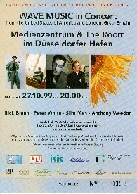 October, when I started out to see Wave Music in Concert. I was anticipating having a good time, because for the first time I had the opportunity to see famous artists from the Smooth jazz scene. There is nothing more annoying than to arrive too late at a gig, so I decided to go very early. Michael van Droff, the promoter of the gig, was kind enough to send me two free tickets for the concert. When I arrived at the Medienzentrum in the Düsseldorf harbour area, the guards let me in without checking my tickets. May be they thought, I was a member of the staff.
I noticed two men who I recognized as Peter White and Rick Braun. So I said hello to them and we started making small-talk.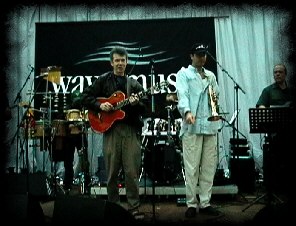 First I delivered greetings from Joan Lynch, a fan who had spoken with him at an event in Houston /Texas the Sunday before. Rick Braun remembered her and said, smiling to Peter, that he had to give him the photo, he got from Joan, showing Peter and Rick together. Peter told me that he was born in Luton, just north of London England and that his father and the father of Anthony Weedon, one of the other artists of this event, had lived in the same neighborhood and were good friends. What a small world!
Then both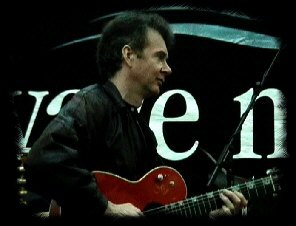 men went onstage to do a sound-check It sounded very professional. Peter played some chords and Rick blowed his trumpet in a brilliant manner. So I awaited unpatiently for the concert to start.
The first number was an upcoming Hip-Hop-Rap-Jazz duo.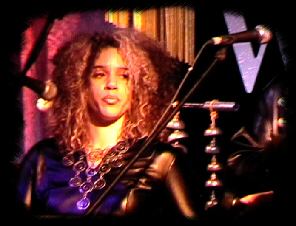 The female vocalist of this group is Jhane Issacs, a very attractive woman. She asked me before the show, if her outfit looked OK, giving me a charming smile. She was dressed in a black leather outfit. "Black is beautiful", was my admiring answer. She also said they would soon be releasing an album.
The Starter of this group was a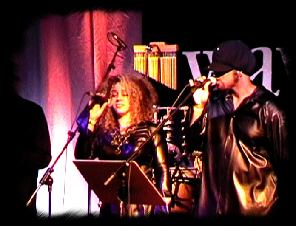 Hip-Hop cover version of Gershwin's "Summertime". Jhane's smooth and mellow voice was a great addition to the rougher vocals of her partner Hami.
The next performer was Anthony Weedon. When you hear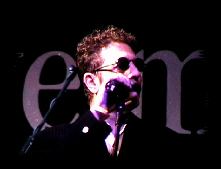 the voice of Anthony Weedon, an artist from Great Britain, you may really think "Has Chris Rea released a new album?" The similiarity is simply amazing. Anthony Weedon has only be writing and singing since his 39th birthday and this is impressive. One day he was listening the radio and got exited about the bad quality of music. "Hey, I can write better trash than that," Anthony Weedon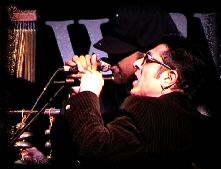 commented to a friend and then he wrote and wrote.....That was 7 years ago. In the meantime he has written more than 40 songs , from which he has compiled the 15 best on his CD "Visions" . From this album he sang "I do" and "Gun fighter". And the man can sing! Astonishing how cool and easy Anthony puts on his show. He traded his sunglasses for the spectacles of sax-player Ismael Diallo, remarking that Ismael would look prettier now. He was not too shy and not afraid to make fun of himself.
For example, at one point he even varied his voice from bass to falsetto.
Now it was the time for the appearance of Peter White, who immediately had the audience spellbound playing some guitar chords. The fans moved closer to the stage and the scene took on a more familiar touch. "My cherie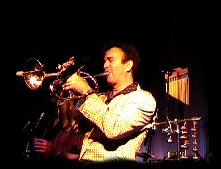 amor", a cover of Stevie Wonder's former hit, which Peter played on his his album reflections, produced a heart-warming effect. He then followed with "Venice Beach", a song from his album "Caravan of Dreams". This song is named after the beach, Peter is living close to. Rick Braun went on stage accompanying Peter's guitar by trumpet. Yes, Rick reached even the highest notes. Rick used sometimes a metal mute, and sometimes a wa-wa-mute with a foot-pedale. Peter and Rick are wizzards of their instruments.
Slim Man, who named himself jokingly on stage "schlimm man"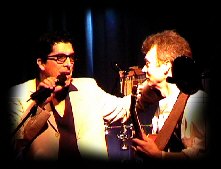 (in German this means bad man), was the next artist profiting from the good mood which Peter and Rick had produced. Slim Man has performed all across the USA with a group of musical talents. Wearing his blue sunglasses as a trademark, he impre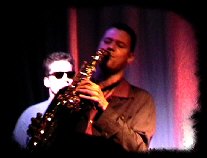 ssed the audience with his voice in a superior style. He sang "There for You", "Overdose of You" and "Secret Rendezvous", which was accompanied by Peter White. His next song was "Low Rider" a old hit of Eric Burdon and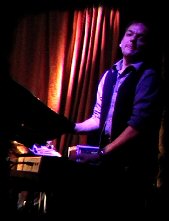 War. Remarkable was Ismael Diallo's solo on saxophone. One can compare him to Kirk Whalum, if comparison is allowed. After the show I recommended him to go to the USA for better chances. He has the musical power and talent for a great career. His wife, having listened to the concert, was looking skeptical. Also a great appearance was made by Lutz Deterra, the magican of keyboard. By the way, all the German sidemen like Stephan Segurna (drums), Günther Asbeck (bass), Kai Koschig (guit), Renis Mendoza (perc) were professional musicians playing world-class quality. I hope to hear more of them in the future. Please drop me a note for the next gig, guys!
More tunes were played by Peter and Rick, the titles of which are sadly forgotten. Next time I will keep a song diary. Some quotes of spanish songs, I heared a long time ago. The highlight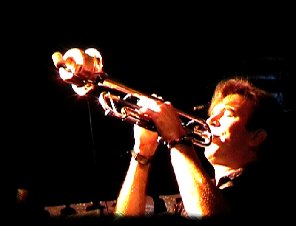 of the event was undoubtedly Rick Braun 's "Indians" from his album "Night Walk". Rick played like a god." Du mußt einen Traum haben und diesen verwirklichen,"(You must have a dream and realize this dream) announced Rick this song in perfect German. Rick has a German wife and so he has learned the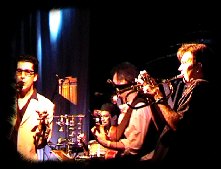 language. Well done, Rick!
So we soon arrived the end of the event. The musicians played all together at the finish. It was a time for sweet memories.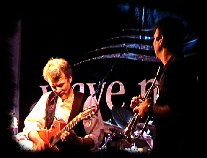 We heared "What's going on?" from Marvin Gaye. Marvin Gaye had fought hard to get Motown to release this title. It's an epic song cycle on which Marvin took total control and weaved his observations about inner city youth, the ecology, and race relations. The song was performed by Slim Man accompanied by Rick Braun,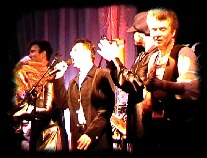 Peter White and the California Sunset Record Band.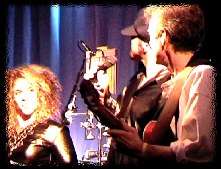 After this more contemplative song followed Stevie Wonder's "Superstition" from his album "Talking Book", released in 1972 by Motown records. It was a real funky jam, giving Antony Wheedon and Hami anew an opportunity to show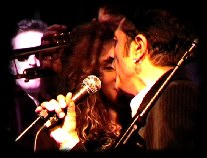 the scope of their vocal talents supported by the lovely voice of the beautiful Jhane Issacs.
The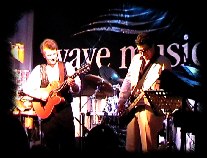 Allstar Band left the stage and the audience called for an encore. Soon they all arrived back to play the classic rock song "Route 66". This song about the legendary street in the USA has been sung by hundreds of musicians. The audience was clapping and dancing and the artists had a lot of fun too. You could see the smiles on their faces. It was a great pleasure for the whole
Smooth Jazz community. So time flew and it was shortly before midnight when the final notes faded away.
I was asked if I would come to the concert in Munich too. I was very sorry to have to say no. I had to work and no time to travel to Munich. But I saw the show on the Internet. Susan Youngblood, a representative of CSR, had heared that Nathan East, the bassist for the famous group Fourplay, was staying in a hotel in Munich. He had a concert the next day with Phil Collins. So she phoned him and he came to the concert to play with the others. To cut a long story short: next time I will take the train.