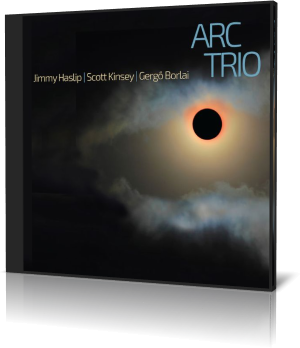 The jazz fusion musicians Jimmy Haslip, Scott Kinsey, Gergö Borlai have come together under the band name ARC Trio to create their eclectic imagination of how fusion jazz has to sound. Each musician comes from a different cultural background, but they are united in the direction of the joint project.
The most famous member is certainly bassist Jimmy Haslip who was a founding member and 32 year band mate of The Yellowjackets, before he decided to concentrate his activity in a plethora of different undertakings and formations. Among the artists he has played with are names such as David Sanborn, Pat Metheny, Al Jarreau, Joe Cocker, Rod Stewart, George Harrison, Chaka Khan, Diana Ross and many more.
Keyboardist and pianist Scott Kinsey has worked with Joe Zawinul, John McLaughlin, Pete Erskine, Victor Wooten, Mike Stern, Dave Weckl, Bill Evans, John Patitucci, John Scofield among others. Hungarian drummer Gergö Borlai is professor at the Liceu Academy/Jazz department in Barcelona and performed with jazz stars like Al DiMeola and Hiram Bullock. Guest musicians on this album are drummers Vinnie Colaiuta and Gary Novak, Steve Tavaglione on sax, flute and EWI, and Judd Miller on EVI.
The opening
Owosso
leads into the heart of Africa, where the rhythm pulsates and the melodies have their origin. Music sequences fall on top of each other, only held together by the constant dancing beat. Perseveringly, the sequences seem to drift towards a climax before melting into repetition.
West Orange
brings back strong memories of Joe Zawinul and his formations like Weather Report and The Zawinul Syndicate. What was in his time the so called jazz fusion innovation now sees itself as a melancholy look back at a still current musical style that is developing into an elitist style.
On
Conchita
Scott Kinsey develops his personal view of the bebop style, which, however, powerfully combines jazz fusion elements.
Viera
blends Salsa staccatos with Zawinulesque sounds and chords. Vinnie Colaiuta's power play on drums reminds me of drummer Paco Sery's performance with the Joe Zawinul Syndicate on the North Sea Festival 1997.
Joan Miró
was a Spanish painter, sculptor and ceramicist, who devoted himself strongly to surrealism. A title dedicated to this painter attempts to recreate this art form musically. The band elevates the theme to the object of their own virtuosity.
Cedars
marks a step to the narrative jazz which draws the listener into its own world of sound. Electronic sounds are in the foreground, which are initially based on the rhythm specifications of the drummer but soon follow a life of their own, and Jimmy's unconventional bass also contributes luminously to this free form of jazz.
Sprite
delivers an amalgamation of various synth sounds embedded in Colaiuta's muscular drum work.
Palo Alto
, a city in California and seat of the prestigious Stanford University, is the title of the Trio's homage. The bass infected tune radiates with its strong reverb effect something Lyle Mays' stylistic. With
I'm Hip
, the group takes a slightly ironic look at themselves. On a quite melodic basic motif Scott Kinsey exercises jewels of his keyboards art.
Weather Report's music changed considerably as the band evolved. Joe Zawinul once understatedly explained it, the music is constantly fluctuating like the weather.
Goan Wanderer
seems to follow this principle. A stunning excursion into the great area of world music.
With
ARC Trio
fusion jazz icons Jimmy Haslip, Scott Kinsey, Gergö Borlai are true to their artistic integrity. Their music is not washed up contemporary jazz but presents fusion jazz in its original creative form incorporating their own perspectives, influences and experiences.


Buy the album in all stores

Album Information

Title: ARC Trio
Artist: Jimmy Haslip, Scott Kinsey, Gergö Borlai
Year: 2018
Genre: Contemporary Jazz
Label: Blue Canoe Records

Tracks:

1 Owosso 6:22
2 West Orange (feat. Steve Tavaglione) 5:13
3 Conchita 4:35
4 Viera (feat. Vinnie Colaiuta & Steve Tavaglione) 6:43
5 Joan Miró 4:24
6 Cedars (feat. Steve Tavaglione & Judd Miller) 7:04
7 Sprite (feat. Vinnie Colaiuta) 4:25
8 Palo Alto (feat. Gary Novak) 4:54
9 I'm Hip 5:51
10 Goan Wanderer (feat. Gary Novak & Steve Tavaglione) 5:31