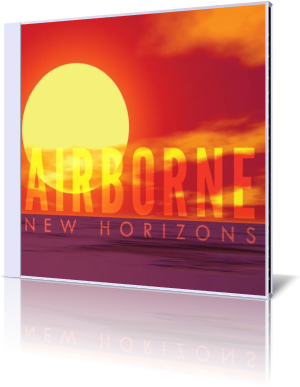 New Haven based contemporary jazz group Airborne are founded by Gregory Borino (guitars, vocals), Thomas Sansone (sax, flute, vocals), Thomas Borino (piano, keyboards, organ, vocals). They constantly released albums since a long time. Take Off in 1990, followed by Across The Sky (1995), Lifetones (1999), Heavy Vibes (2004), Turbulence (2007), Winds of Change (2008) and this year New Horizons.
Their albums have often a motto and a special impetus. For example the group demands with Winds of Change common ground, solidarity and the willingness to make the world better. The new album New Horizons follows the same concept: "The music of Airborne reminds and encourages us that we can create a new world of peace. One world of people searching and waiting for a sunrise of happiness that's just over the new horizons. "
The album comes up with the mid-tempo Sunrise. Heavy like the mighty sun rises the wave of chords and melody. The Bossa Nova flavored Take Me Away attracts with a nice tune. Ornamented by Elisabeth Dellinger's and Yvette Early's vocals especially the acoustic guitar performance enjoys.
Diggin The Atmosphere features Thomas Sansone on flute, who duets with Thomas Borino on piano. A Saturday Afternoon delivers some moody elements. Sansone paints the atmosphere in saxual light.
When Bobby Hebb composed in 1966 his song Sunny he never expected such a tremendous success. The song is number 18 of the most played songs of all time (BMI). A timeless composition sets Airborne in the best light. Pieces like One World are typical for Airborne as entertaining act. A recommendation for great parties and festivities.
A film score? Why not, Gate 7 shows a dynamic tension and jazzy interferences. Do you like some jammin'? Then try Thank God It's Friday. God Bless The Child is a song written by Billie Holiday and Arthur Herzog Jr. in 1939. Borino's vocal interpretation is respectable.
On From Jazz To James Airborne rides the scale of music in variations of contemporary and Latin jazz. The gospel We Are All Children Of This World displays the fantastic singer Elisabeth Dellinger with an outburst of spirtuality. New Horizons speaks the words of the world. A pray to reach out the hand to the world to live our life to the fullest.
All things are possible. New Horizons is Airborne's approach to combine serious messages with pleasure and joy. Be prepared to take off.




Buy the album in all stores



Album Information

Title: New Horizons
Artist: Airborne
Year: 2010
Length: 0:58:05
Genre: General Jazz
Label: Unsigned


Tracks:

01 Sunrise [3:36]
02 Take Me Away [4:20]
03 Diggin The Atmosphere [4:28]
04 A Saturday Afternoon [5:55]
05 Sunny [3:50]
06 One World [5:32]
07 Gate 7 [5:12]
08 Thank God It's Friday [4:26]
09 God Bless The Child [5:06]
10 From Jazz To James [6:57]
11 We Are All Children Of This World [4:32]
12 New Horizons [4:14]


Further reviews: