| | |
| --- | --- |
| Archive | |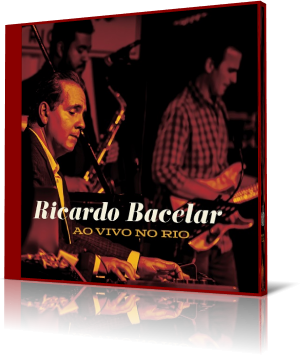 The discography of Brazilian composer and pianist Ricardo Bacelar is still manageable. After his debut album In Natura (2001), followed Concerto para Moviola (Concerto for Moviola), a live album, recorded in 2015 during the Guaramiranga Jazz and Blues Festival at the Via Sul Theater, Fortalezea, Ceara, Brazil, and Sebastiana (2018). Now he returns with his second live album recorded in May 2018 at The Blue Note in Rio, Brazil aptly titled Ao Vivo No Rio (Live In Rio).
Ricardo was accompanied by guitarist João Castilho, saxophonist and flutist Danilo Sina, double bassist Alexandre Katatau, drummer Renato Endrigo and percussionist André Siqueira. Most of the repertoire of the live album covers compositions of the groundbreaking Brazilian musicians Milton Nascimento, Tom Jobim, Gilberto Gil, Flora Purim along with American greats Benny Golson, Horace Silver, Pat Metheny and Chick Corea.
Ricardo considers his album, which was recorded in the intimate circle of the 300-seat Blue Note, an incentive to return to live performances after the end of the pandemic. Ricardo comments: "People need the warm sound and feelings of live music as opposed to the electronic stuff we hear on studio recordings. By listening to this live album, you can embrace the warm sound from the safety and comfort of your home."
The set starts with Killer Joe, a jazz standard composed by Benny Golson in 1954 and recorded for the first time on the album Flyin' Home by the jazz vibraphonist Lionel Hampton. The song gives wide room for all musicians to shine through brilliant solos. Toda Menina Baiana is a song by Gilberto Gil written in 1979. Its title, in Portuguese, means "all the young girls from Bahia". Gilberto wrote it for his daughter, Nara. The song appears in the album Realce. From simple Brazilian pop music Bacelar develops a high class jazzitude.
Nada Será Como Antes (Nothing Will Be Like Before) was composed by Milton Nascimento as a member of the group Clube da Esquina recording the same titled double album in 1972. In my opinion, the cover version featuring Bacelar in a duet with Brazilian vocalist-pianist Delia Fischer is more authentic than the original. Señor Blues is a bluesy lowdown composition by Horace Silver originally recorded in 1956. Bacelar's modern transition is on the high of its time.
Partido Alto is a type of Samba with two dueling singers. In this case the original features Airto Moreira and Flora Purim on their album The Colours of Life in 1988. The melody is great enough to serve as a blueprint for Bacelar and his amazing crew. So May It Secretly Begin by the Pat Metheny from the 1987 album Still Life (Talking) is an outstanding challenge against which every musician can measure himself. The mastery and accentuation of this piece shows the true greatness of Bacelar and his formation.
It is certainly to the credit of Bacelar to have brought Nacimento's song Caicó Cantiga into a jazzy overall context. Sure, who doesn't know Antonio Carlos Jobim's Agua de Beber? Bacelar rewinds the piece with routine. Sernambetiba is a creation by Bacelar in collaboration with Cesar Lemos from his album Sebastiana. Barcelar presents himself as a charming chansonnier and elegant pianist.
Nanã is a song by Moacir Santos from the album Maestro (1972). Bacelar's instrumental alternative brings new freshness to the song. Blue Miles is the final tune on this album, originally by Chick Corea from his album Paint The World (1993). Rocky from the first impression Bacelar's group powerfully goes into jazz fusion.
Many tracks released on this album can also be found on Bacelar's first live album Concerto para Moviola. Nevertheless, it is phenomenal how much the location affects the sound. The saying, the difference makes the music gets a completely new meaning in this case. An all around recommendable album.




Buy the album in all stores


Album Information

Title: Live In Rio
Artist: Ricardo Bacelar
Year: 2020
Genre: Latin Jazz
Label: Bacelar Productions


Tracks:

1) Killer Joe (4:10)
2) Toda Menina Baiana (4:28)
3) Nada Será Como Antes (5:53)
4) Señor Blues (4:43)
5) Partido Alto (4:40)
6) So May It Secretly Begin (6:28)
7) Caicó Cantiga (4:29)
8) Agua de Beber (4:11)
9) Sernambetiba 5:00)
10) Nanã (4:56)
11) Blue Miles (6:41)



Further review: