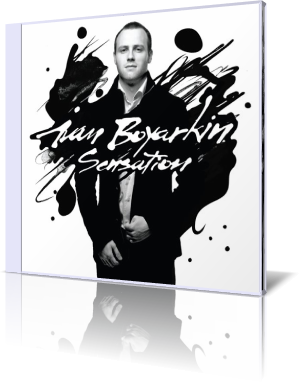 Russian songwriter and saxophonist Ivan Boyarkin has released in 2012 his debut album Sensation. Although Ivan lives in Moscow, he inhaled the spirit of American smooth jazz so perfectly that his music is a real recommendation for all smooth jazz lovers.
When an artist calls his opening theme Sensation, you can expect great things. The title track keeps this announcement. With utmost care Ivan creates an intimate atmosphere on the saxophone. The velvety voice of the singer Rona Ray is convincing on No Better. The young singer Stas Markevich carries on Midnight Love to the success of the CD. The combination of modern rhythm with the mellifluous sound of Ivan's sax is the main feature of True.
Whatever You Want presents A. Chevajevskaya and S. Velichko in a heartfelt duet. If you love the piano play of Brian Culbertson or Nate Harasim, you should definitely listen to Love Just Wants. Ivan is like Culbertson a brilliant multi-instrumentalist. Last Time comes with great nonchalance. Your Love Will Always Belong To Me showcases a romantic ballade of Galliano and Gayana.
The intensive use of auto-tune like on Something In My Mind is probably to be regarded as time phenomenon. Less would be more. The album shines on instrumentals in the style of Better Day. Vladimir Boytsov's bass solo on this track is remarkable. Love ballades such as Leave Me Alone featuring singer Gayana are also highlights of this CD. On Go Out Of The Rain Ivan lives his penchant for experimental in the design of the keyboard accompaniment.
My Life is a George Benson-flavored song. Elijah Grigoryev performs relaxed guitar licks humming along the melody. Light Up Your Soul featuring MC Elijah Black is a rap intruder adapted melodiously to the body of work. The atmospheric Music From My Mind presents the lovely singer Blacky. The album closes with the sensitive Love Song, Ivan's final sax interpretation.
Ivan Boyarkin's album Sensation surprises with exceptional professionalism. My only criticism is that the album has not been released as a CD. But that can surely catch up. For now download the album. Links are provided at Ivan's website.