This is the fifth album with the bass as leading instrument I reviewed. Friends of bass guitars will be interested in reading the reviews about Larry Antonino's Village Strut, Luico Hopper's Lessons Of Light, Chuck Smith's Basically Bass or The Kenny Wright Experience 's Comin' At Ya.
To bring it to the point Kirwan Brown's album Sightings is an album for classic jazz fans with an appeal for the bass. What one can expect is an instrumental album with a big bunch of improvisations. Kirwan has performed with numerous jazz artists, including Dave Valentin, Ronald Shannon Jackson, Nelson Rangell, Jimi Tunnell, Kirk Whalum, Bernard Wright, and Joel Rosenblatt, and has appeared on albums by Brian Savage, Rob Mullins, Peter Kater, and Curandero.
At his first track Intro Kirwan demonstrates his skills in bass play. One can listen to quick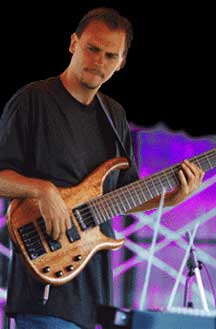 slap bass runnings. Kirwan accompanies himself on keyboards and has added some loops.
Directly he starts over to the funky Average White Brown. This tune has obviously the flare of the famous Average White Band. Lee Schloss and Larry Spencer burst out into a tremendous sax resp. trumpet solo followed by Noel Johnston on guitar. Kirwan adds his bass kicks with curious wah-wah effects.
Jaco Changes is a bass and drums tune. A hard uptempo drum-machine-rhythm is the ground for Kirwan 's speedy bass runnings.
Theme And Variations For Adult Film is really an excotic title for Kirwan 's next bass excercises. Repeating a theme over and over again, Kirwan, Eric and Mike start to throw in hundreds of improvisations. This is a tune for pure jazz freaks.
Very uptempo and funky is the follow-up Feel Me Excerpt. A quick interlude.
Conflict Resolution has a special swing flavour with Paul Romaine 's work with cymbals and brushes, Ross Martin's contrapunctual guitar runnings and Kirwan 's extensive bass solo. Paul presents us a short drum solo in between the tune.
Sheven has the same ultra-funky attitude like Average White Brown. Kirwan's plays low and high basses.
My Spanish Tart has nothing in common with Spanish music. No, it's again a jazzy uptempo tune. The musicians are playing like all want to be the first in a race. If speed and jazz improvisations would be the panacea, Kirwan and his friends would win this price.
Eric's tune is the next solo effort of this formation.
About the last tune of this memorable album Kirwan writes witty "recorded hastily to cassette during a rainstorm in Texas." Between you and me, it's the only smooth jazz tune on this album. Kirwan plays a beautiful and hooking melody accompanied by a drum-machine again.
For bassists and fans of this instrument certainly a worthy addition for their compilations, especially if one prefers long solos. The album shall be sold over Kirwan Brown's website www.kirwanbrown.com, if it is (hopefully) online again.
© HBH