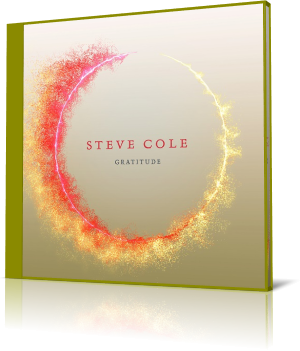 Saxophonist Steve Cole had retired for a short time due to health problems of a family member, he was caring for. Now he is back in old presence. Appropriately his new album Gratitude has just been released, like his earlier albums on the label Mack Avenue Music Group. After Stay Awhile (1998), Between Us (2000), NY LA (2003), Spin (2005), True (2006), Moonlight (2011), Pulse (2013) and Turn It Up (2016). Gratitude is his ninth album.
According to the credits Steve performs on the new album tenor sax and keyboards. He is joined by Trevor Neumann (trumpet), Dan Levine (trombone), David Mann (tenor sax, flute, keyboards, programming), Ricky Peterson (Hammond B3), Bernd Schoenhart (guitar), Khari Parker (drums), Lamar Jones (bass), John James (vocals), and Marcus Anderson (flute, keyboards, programming). The album was produced by David Mann.
The album starts in uplifting mood with Good News Day presenting a finely tuned saxophone arrangement in combination with a balanced chorus line. Neo Sol is a mesmerizing tune with harmonies inspired by EWF.
Gratitude is Steve's Thanks for all the people who helped him and his family through the tough times. This Gospel styled ballad is addressed to the musicians, the collaborators and the many nameless professionals who have supported him.
Steve Cole is a welcome guest on the Pizza Express in London's Soho district. Soho is dedicated to this supportive venue, its managers and audience, in Great Britain. Starting Over boasts an exuberant harmonious saxophone scenery of course with David Mann's signature handwriting.
Love Ballad is featuring vocalist John James in an emotional song with sweet and soulful content and depth. Five6oh83 is a secret formula that hides a tribute to a saxophone legend. For good reason, the piece has a distinctly jazzy feel. Canít Get Enough blazes the Motown tone, a glowing light of sonic consonance.
Letís Go! is swaying even more in glorious harmonies featuring the excellent brass crew of Trevor Neumann (trumpet), Dan Levine (trombone), and David Mann (tenor sax) in support of Steve's saxophone performance. Toronto is entitled by the city, where the tune was written by David Mann. The wide range of horns in conjunction with Bernd Schoenhart's funky guitar illustrates the scenery of the Canadian metropolis.
The efficient collaboration between Steve Cole and David Mann also pays off with the new album Gratitude. An audible trademark are the mature harmonies formed by various instruments and musicians, which are rarely found in this form in today's smooth jazz.






Buy the album in all stores



Album Information



Title: Gratitude
Artist: Steve Cole
Year: 2019
Genre: Smooth Jazz
Label: Mack Avenue Music Group

Tracks:

1 Good News Day 3:42
2 Neo Sol 4:55
3 Gratitude 5:28
4 Soho 4:18
5 Starting Over 3:37
6 Love Ballad 4:36
7 Five6oh83 4:03
8 Canít Get Enough 3:42
9 Letís Go! 3:43
10 Toronto 5:17





Further reviews: