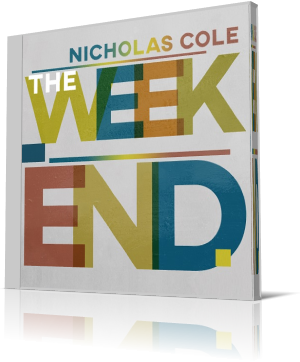 Keyboardist Nicholas Cole has since longtime developed from a phase of discovery into an established artist. A Journey of One (2010), Endless Possibilities (2012) and Night Sessions (2015) are milestones of his splendid solo career. His newest album The Weekend will arrive September 13, 2019.
The singles Sugar and Soulmates, which are already released from the new album, have reached top positions in the charts. Nicholas Cole opens with Recall a great sound panorama combining keyboard and percussive sounds in a innovative way.
If you love the television series Stranger Things on Netflix, this tune will spread its addictive magic too. Nicholas mingles soundscapes and harmonies in a dynamic mode that exerts an unusual charm. Turning It Up accesses the palette of the funk with the use of the Vocoder, fat bass and percussion gimmicks to build some party noise.
P.Y.T. (Pretty Young Thing) features American Idol finalist and blessed singer Elliot Yamin delivering a hot R&B song that can stand up to any comparison with other party hits. Sugar is making a really audible bang, a sure hit on every radio station.
The title song draws his concentrated energy from the tension between syncopated rhythm and ambient piano playing. Should've Been Us featuring Japanese guitarist Kay'ta Matsuno allures with the Midas touch of romantic emotion. Pillow Talk also relies on the Brian Culbertson effect and expands it further.
Nicholas has rightly chosen Soulmate as his second single. With the support of guitarist Chieli Minucci this strong Latin flavored melody has the best chance for one of the top chart places. It Aint Over follows with a thrilling melody and groove.
Nicholas Cole's new album The Weekend has twist and esprit. Impressive is the density of hit-suspicious material, which you rarely encounter in smooth jazz.





Buy the album in all stores



Album Information



Title: The Weekend
Artist: Nicolas Cole
Year: 2019
Genre: Smooth Jazz
Label: Trippin 'N Rythm

Tracks:

1 Recall 1:58
2 Stranger Things 4:36
3 Turning It Up 4:38
4 P.Y.T. (Pretty Young Thing) (feat. Elliot Yamin) 4:01
5 Sugar 4:58
6 The Weekend 3:59
7 Should've Been Us (feat. Kay'ta Matsuno) 4:15
8 Pillow Talk 4:45
9 Soulmate (feat. Chieli Minucci) 3:21
10 It Aint Over 3:57






Further reviews: