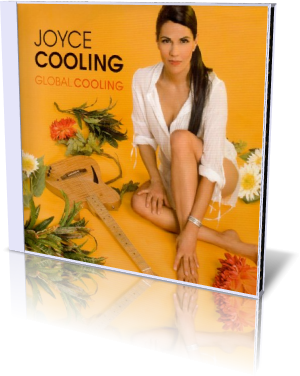 Since her arrival in the San Francisco Bay Area Joyce Cooling was always infected by music. But it was Wes Montgomery's solo on If You Could See Me Now which Joyce turned to the guitar. Her contact to Jay Wagner, a keyboardist on San Francisco's Brazilian circuit, gave her the impetus and energy to start her solo career. Her first album was Cameo (1990), a Brazilian-oriented music under the strong influence of her partner and musician Jay Wagner.
Her breakthrough was her Heads Up International debut Playing It Cool (1997), presenting a mixture of Latin and smooth jazz. The title song reached #1 on the Gavin Report and was the foundation for her great fan community. Based on a frequent appearance on numerous gigs and festivals her next album Keeping Cool (1999) could extend her popularity and success. Still on the heights of charts followed her albums Third Wish (2001-GRP), This Girl Got To Play (2004) and Revolving Door (2006-Narada Jazz), musically anchored in the smooth jazz genre.
Released from any label contract in the absolute weightlessness of independence Joyce finds back to her roots on her new album Global Cooling (2009). All songs on the new album are written and arranged by Joyce and her longtime friend Jay Wagner. Joyce expresses her excitement: "Global Cooling is like taking a transcontinental flight, touching down in fun, exciting and beautiful places. We were inspired to travel into uncharted territory, so we really stretched ourselves to get our passports in order! We played with a lot of new instruments and layered Tablas, congas, bongos, sitar, berimbau and even accordion over funk, rock and jazz. It was a trip."
Smooth like a cheetah crawls Joyce into the starting Grass Roots. The reggae flavored bass and a strong horn section perfectly surround Joyce energetic guitar lead. Jay Wagner shines on a syncopated piano. The propelling Global Cooling is Joyce's tribute to the green-globe effort. The pumping beat is performed by Billy Johnson (drums) and Roberto Quintana (percussion).
A real popular melody is the grooving Save This Dance For Me. Joyce earned high accolades on the Berks Jazz and Seabreeze festivals this year with her new album. Cobra is a little trip to India instrumentally inspired by tables and sitar. Joyce comments: "I have some favorite Indian ragas, or scales, that I always wanted to play. The scales didn't fit over any of our previous songs, so we wrote Cobra, using one of my favorite ragas as a springboard."
Hooking melodies and lyrics are Joyce's great potential and talent. What Are We Waiting For? is a brilliant example of her blessed gift in the style of Joni Mitchell. Dolores In Pink is a tight collaborating between Jay, Joyce and long time drummer friend Celso Alberti. A Samba groove with a hypnotic power.
We Can is not an announcement but a fact. When someone deserves a prize for innovation then it is Joyce Cooling for this fantastic jazzy rap song. Especially recommended for percussion fans, congas, bongos, timbales, berimbau are the strong beat backbones.
One of the band's favorite restaurants in Detroit is Rhythm Kitchen. The 114-foot marble waterfall at Fishbone's is hard to ignore, but if that weren't enough for aesthetics, it also has a huge aquarium with beautiful, big, bright tropical fish. This excellent restaurant is the title donor for the next song.
Perhaps inspired by Grace Jones' La Vie en Rose The Red Rose melts Jay's passionate accordion and Joyce's Spanish guitar to an elegant Tango d'amour. "I have always love the way Jay plays accordion. The last time Jay's accordion playing was featured was on our very first CD Cameo on a song called, Voo Doo Chicken. He hasn't lost a stitch," comments Joys enthusiastically.
The origin of Chit Chat is to find in the conversation of two people observed by Joyce and ironically translated in a vocal view. Carnaval in Rio is the real thrill, an unparalleled experience and a definite once in a life-time event. Joyce and Jay join the Carnaval on In The Streets in their own way.
Celebrate Joyce's Global Cooling. It's a festival for brain and heart. Have the party of your life.

Album Information

Title: Global Cooling
Artist: Joyce Cooling
Year: 2009
Length: 0:41:10
Genre: General Jazz
Label: Group2 Productions


Tracks:

01 Grass Roots [4:14]
02 Global Cooling [3:39]
03 Save This Dance For Me [4:18]
04 Cobra [4:39]
05 What Are We Waiting For? [2:52]
06 Dolores In Pink [4:23]
07 We Can [3:07]
08 Rhythm Kitchen [4:28]
09 The Red Rose [4:07]
10 Chit Chat [3:59]
11 In The Streets [1:24]