| | |
| --- | --- |
| Archive | |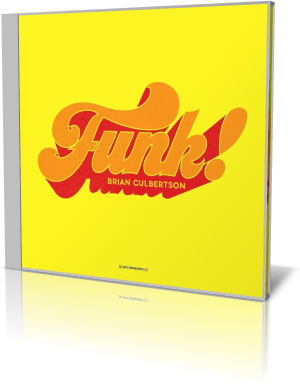 Jazz/R&B musician Brian Culbertson is significantly successful in the area of smooth jazz. But he unfolds his primordial power when he pushes into the fields of Funk. With Bringing Back The Funk, released in 2008 on GRP Records, he reached number one on the Billboard Top Contemporary Jazz Albums Chart.
Why not double the success and transfer the atmosphere from stage to CD? Finally, the idea was translated into action. With Funk! follows his second album of this genre on his own label. The album is dedicated to Maurice White, the executive producer of his first Funk album and Prince, two legends who died too soon.
"It was really important for me to pay tribute to those guys who were huge influences on me," says Culbertson. "Not only as a kid growing up but their impact on me while working with the both of them. Funk! is dedicated to their incomparable legacies."
The rocket elevates with Get Ready featuring Brian Culbertson as lead singer and much horn and bass. Chance Howard (Prince, The Time, Candy Dulfer) underlines the song with his bass voice and gives it the final authenticity. He and bassist/guitarist St. Paul Peterson co-wrote the song with Culbertson. The Call boosts into a vocal and instrumental cacophony, which promises to lead to an exciting party.
Been Around The World brings bass, horns and piano together to an explosive mixture and the ignition follows quickly. Take It Up comes loud and vivid following the order to dance and move. Let's Take a Ride opens with fulminant bass and synthesizer in the style of The Gap Band. We Got What You Want wraps it tight with fabulous horns leaning toward a Tower of Power vibe. The interlude Sunshine presents a cool dialogue between some band members.
The melodious melody Hey Girl stands outside the Funk context and can be booked as a plus for the smooth jazz genre. Damn, I'm Hungry guides back to the Funk side of the album. Got to Give It Up reworks Marvin Gaye's 1976 classic, in Brian's live repertoire since last year. By the way the refrain "Let's dance, let's shout, gettin' funky's what it's all about" inspired the Jackson 5 to the song Shake Your Body.
The story of Mile Sauce expands in a restaurant. Chance Howard's primal scream shakes to the core. The rest is Funk music. Play That Funky Music was a Platinum hit by the band Wild Cherry in 1976. Brian performed the song for the first time as an encore during a live concert and the audience went crazy. Later Brian added the song to his live show. "The arrangement we came up with was so good, too good not to record," he comments. "So when I started doing this album, I had to include this song." Brian shines on piano and trombone and the cover is boiling hot.
Brian announces this song on his shows with "Every funk record needs a slow jam." The romantic ballad Spend a Little Time is featuring lead singer Eddie Miller. The album version glitters with a captivating piano melody and a bass exuberant and sparkling like a bottle of champagne. To Be Continued… gives the album a funky finish.
What can heat a party better? Funk or smooth jazz. Brian gives with his new album a convincing answer. This album is for all funkateers in the world!




Buy the album in all stores

Album Information

Title: Funk!
Artist: Brian Culbertson
Year: 2016
Genre: Funk
Length: 52:28
Label: BCM Entertainment


Tracks:
01. Get Ready
02. The Call
03. Been Around the World
04. Take It Up
05. Let's Take a Ride
06. We Got What You Want
07. Sunshine
08. Hey Girl
09. Damn, I'm Hungry
10. Got to Give It Up
11. Mile Sauce
12. Play That Funky Music
13. Spend a Little Time
14. To Be Continued…


Further reviews:


Nice And Slow

Come On Up

XII

Dreams


Interview

Funk! was recorded at Culbertson's own newly reconstructed BCM Studios in his native Chicago with the help of his band members Marqueal Jordan (vocals, sax), Tyrone Chase (guitar), Eddie Miller (keyboards, organ, vocals), Rodney Jones, Jr. (bass, guitar, vocals), Chris Miskel (drums), Michael Stever (trumpet, horn arrangements) and Chance Howard (keyboardist, bassist, vocalist).