| | |
| --- | --- |
| Archive | |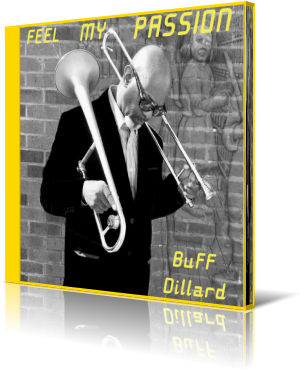 Buff Dillard has just released his ninth album Feel My Passion (2017). Jazzful Hymms (2008), Genesis (2009), Awaken (2010), Christmas Moments with Buff Dillard (2011), Against All Odds (2012), and Mr. Bonejazz (2015) are some of the others.

In the smooth jazz domain are the saxophonists the kings. Trombonists have to struggle for acknowledgement, even those who have like Buff an academic qualification. So bringing his instrument to the front of the stage, was his premier impetus. With much energy and pleasure he is pushing forward his life target.

Feel My Passion is the aptly title of his new effort. Buff is supported by his friends like Davien Bailey (trumpet), Nicci Canada, Ryan B. (vocals), Derek Harling, Tony "Teaspoon" Witherspoon (keyboards), Paul Dozier (guitar), Clayton Turnage, Calvin Napper, Brian Houze (drums), and Melvin E. Gray (bass). Buff has written and produced all tracks with the exception of three covers.

With My Passion Is Buff introduces into his new project revealing his concern to entertain his audience. The title song features Buff on trombone with a harmonic twist while vocalist Nicci Canada brings together with Dillard the message into words. I Just Wanna Live is a more than modest wish in life. Buff's slide and Nicci's scat song encapsulate this essential desire in a catchy melody.

Feel Like Making Love is intimately associated with the famous singer Roberta Flack. This song has already inspired jazz greats like Bob James and George Benson for fascinating covers. When Paul Dozier strikes his guitar, George Benson couldn't do it better. Buff Dillard swings on trombone like a beast and Tarsha Williams sprinkles in some charming verses. The slow paced Sunrise underlines the atmosphere, when the first sunrays touch the world into a golden light.

Just Believe gives this album the extra pop. Never ever heard a religious message with such a sliding groove. Step'in is a gold nugget of funk inspired by Brother Johnson's very own Stomp. Philadelphia's soul group The Stylistics recorded People Make the World Go Round in 1972 with tremendous success. Buff tackles this song with profound routine making it to a great Philadelphia sound celebration.

Stevie Wonder has influenced generations of musicians. Especially his album Songs in the Key of Life is a treasure trove for innumerous renditions. Buff has chosen from this album Loves in Need and makes the song under Steve's guidance to his own performing the trombone with such a grace only typical for Buff's style. The trombone is a striking instrument with its crisp tone. Dreams is a good example for Buff's outstanding position as solo interpret. His range of expression from the soft sound to the blasting tone is remarkable. On the final Choose Life Buff gives a brief insight into his singing abilities in a duet with Nicci Canada.

There are only a handful of skillful people in the field of smooth jazz, who master their instruments like Buff Dillard. But there is only one who performs his instrument with such vigor and passion. You have already guessed it. The one and only Buff Dillard.





Buy the album in all stores

Album Information

Title: Feel My Passion
Artist: Buff Dillard
Year: 2017
Genre: Smooth Jazz
Label: Bonejazz Entertainment



Tracks:

1 My Passion Is 0:27
2 Feel My Passion 3:36
3 I Just Wanna Live 3:47
4 Feel Like Making Love 5:06
5 Sunrise 6:13
6 Just Believe 4:17
7 Step'in 3:46
8 People Make the World Go Round 3:35
9 Loves in Need 4:01
10 Dreams 4:46
11 Choose Life 1:52



Further review:


Mr. Bonejazz