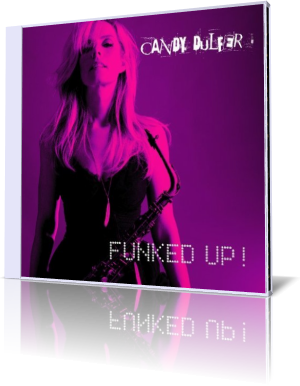 Saxy Candy is back with her sophomore Heads Up International release Funked Up! "It came together over the course of a year and a half," says Dulfer. "First, we had the beginnings of the album. Then we made the soundtrack to the movie. After that, we even wrote a couple more songs. It's almost like a best-of album representing my funky and softer sides. It's great when you have so many good songs, and you get to choose the ones you like best."
Candy has a deep affinity for funk. Her funk jazz alto tone has been heard alongside artists such as Jimmy Cliff, Tower of Power, Fred Wesley, Pee Wee Ellis, Prince, Maceo Parker and Aretha Franklin. I recommend you every concert with her explosive appearance and her special European style of funk.
She is surrounded by her Dutch band called Funky Stuff. Currently this group consists of the musicians Thomas Bank (keyboards), Ulco Bed (guitar), Dedre Twiss (vocals), Chance Howard (bass / vocals) and Kirk Johnson (drums). Further assistance arrived with a three-piece horn section that includes trumpeter Jan van Duikeren, tenor saxophonist Guido Nijs and trombonist Louk Boudesteijn and some guest musicians.
First In Line is a tutorial program of funk. Candy uses all ingredients of old school like vocoder, Moog, syncopated bass and a fat horn section. Just like in the time of The Brothers Johnson, Cameo and James Brown.
In My Funk Pete Philly explains the difference between my funk and your funk. Pete is a popular rapper in the Netherlands. "He just came in, heard the music and loved it," says Dulfer. "He said, 'Just leave me alone in this room for about twenty minutes.' After a while, he came out and said, 'Okay, I've got it.' That's the beauty of hip-hop artists. If they're good, that's the way they work. Like jazz musicians it's a very intuitive, very immediate creative process."

The romantic tune Still I Love You presents the smooth side of Candy's live appearance. The title was a suggestion of a Japanese fan during a gig at the Blue Note in Tokyo. Candy recalls: "This very tall, very beautiful Japanese woman at one of our gigs wrote this title on a piece of paper and handed it to us. We knew immediately that it captured what the song was about."

The reggae flavored Step Up features the splendid singer Leona. Toronto born Leona Phillipo is a singer with a Jamaican heritage. She has great success especially in Netherlands in musicals (Aida) and touring with artists like Nits, Trijntje Oosterhuis, Kane and Candy Dulfer.
Don't Go shows more of the emotional power of Candy's sax performance, a great collaboration between Candy and Thomas Bank. CD 101.9 is a tribute to the former New York radio station that gave Dulfer and her band a lot of airplay around the time of their first visit to the States in 1991. In the song included are sound bytes of veteran DJ Russ Davis' original comment which was recorded by Candy's father.
Bliss2This offers the elegant treat of rapper and trombonist Joseph Bowie of Defunkt, who tells the story supported by Chance Howard's smoky background vocals. Finger Poppin' is a groovy flash back to the time of Motown R&B and disco sound. The fantastic horn section under the lead of trumpeter Jan van Duikeren keeps you moving right to the dance floor. Be Cool!
On & On is illuminated music. A great melody tells a story. The second reggae on this album is entitled True & Tender featuring Leona. Dulfer calls Leona "a force to be reckoned with, a very talented singer and performer and entertainer. Before she put the vocal track down on 'True & Tender,' it was just a jam, and we didn't even know if it would end up on the album. But she really made it her own."

Roppongi is a district of Minato, Tokyo, Japan, with a rich nightlife. With Roppongi Panic Candy Dulfer performs her homage to her Japanese fans in her irresistible way chilling along Thomas Bank's propelling synth beats.
Candy Dulfer's Funked Up! is pure entertainment. There is no chance to stay untouched by this hooking music. This is a menacingly mesmerizing brain floater.

Bio





Website



Review about



Buy the album


Album Information

Title: Funked Up!
Artist: Candy Dulfer
Year: 2009
Length: 0:47:37
Genre: General Jazz
Label: Heads Up International


Tracks:

01 First In Line [4:04]
02 My Funk [4:58]
03 Still I Love You [4:10]
04 Step Up [3:10]
05 Don't Go [3:16]
06 CD 101.9 [3:29]
07 Bliss 2 This [4:19]
08 Finger Poppin' [4:21]
09 Be Cool [3:18]
10 On & On [4:37]
11 True & Tender [3:52]
12 Roppongi Panic [4:03]