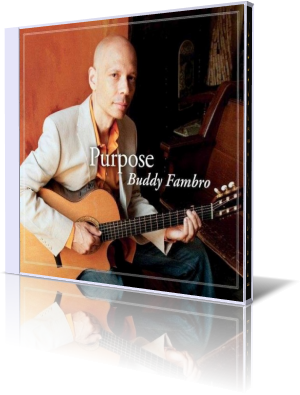 Chicago born guitarist Buddy Fambro is influenced by Wes Montgomery, Pat Metheny, Larry Carlton and the like. A Berklee College of Music graduate he is performing, composing, arranging and collaborating in the Chicago music scene.
Among the smooth jazz musicians Buddy performed with are Nick Colionne, Marion Meadows, Gerald Albright or Ramsey Lewis and Urban Knights. He already released the albums Higher Consciousness (2004), and Duo with Jade Maze (2004). His newest project is Purpose (2012), which is available at CDBaby.
With the exception of two covers Buddy composed all songs. He got some help by Mike Logan, Tim Gant, Chuck Webb, Kahari Parker, Ron Haynes, Craig Sunken, Harley Figueroa, Marqueal Jordan, Chris Miskel and many more. Buddy himself plays guitars and synthesizers on this album.
It is one of our favorite habits, jointly holding a Barbeque. Barbeque Shuffle is the anthem for this outside enjoyment. The full bodied Mostly Inn has a awesome Latin stream. Steve Eisen's wizardry on flute and Mike Logan's piano performance are great ornaments for Buddy's guitar groove.
Hector's Walk has a magical tune that takes one immediately captured. Buddy knows the secrets of enchanting sounds. Sugar On Her Grits has a strong contemporary jazz note. Buddy uses the song as a platform for some improvisation.
Buddy delivers a comfortable rendition of Al Greene's Let's Stay Together. I especially love Eisen's flute arrangement. What can effect a good rhythm, you will like to hear on One Flew. Inspired guitar loops on a great flow. Carmel is Buddy's tribute to Joe Sample, one of his favorite composers and musicians. John Erickson's electric piano performance is outstanding. Fambro wrote a fantastic piece for his idol.
High 5 is featuring Jade Maze. This eclectic project adds a female component to Pat Metheny's style. Song For Lee is grown by an earlier work, that Buddy reinvented. Could that be a song for Lee Ritenour? Great harmony between Buddy's guitar and Steve's flute. U Way 2 Cool showcases Buddy's huge affinity for contemporary jazz.
Buddy has used a lot of enthusiasm for the creation of his album Purpose. Careful arrangements, passionate playing, exquisite melodies reflect the current state of his musical development.