No, my name is not Livingston. Although I have the same eager to
explore the world of Smooth Jazz. Now I am arrived in Africa, strictly speaking in South Africa (Zulu: Yashelela Africa/Xhosa: Ubuhle be Africa). Release for my journey was the album Smooth Africa on the Heads Up label. Producer of this album are Martin Walters, Dave Love, Jimmy Dludlu, Andy Narell, Sipho Gumede and Paul Hammer. Dave Love is the president of Heads Up International who did this project as a result of three trips to SA and the partnership with Sheer Sound, a South African record label / distributor.
Those which love the African impact on jazz music should listen to this album. It 's a good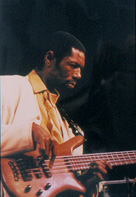 introduction into the South African Smooth Jazz scene. Sipho Gumede may be known by his touring with Harry Belafonte and Hugh Masekela. Sipho has already released a lot of albums like Down Freedom Avenue, Ubuntu, 20 Years Of Life, Blues For My Mother, Down Freedom Avenue or New Era. One can also listen to his bass at Pops Mohamed albums Kalamazoo 2 and Kalamazoo 3. His ability to combine his traditional Zulu culture with modern contemporary jazz makes him most attractive for our ears. When Days Are Dark, Friends Are Few is a title from his album Blues For My Mother, which is to find at the Smooth Africa album and also as a video at the Heads Up website. This title is very infectious. After listening this tune one wants definetely more of this stuff. Ok, here we go!
The album The Best of - Part I is a collection of tunes, previous released on the Sheer Sound label. The album starts with Please Don't Dance, a request which is to take serious. This uptempo South African rhythm, the grooving brass and bass and the yelling synth are irresistible.
Faces And Places features McCoy Mrubuta on soprano sax solo. It 's a variable tune with silent and strong played parts, strings and a big brass background. Starting with a bass melody accompanied by a piano the tune soon opens to a broad area of soundscapes symbolizing the different faces and places, which Sipho integrates into his music.
Stockvel Gumba is the instrumentalisation of African voices. Great sax presentation, a big brass background and Sipho's speaking bass give this tune a vivid attitude.
Nozipo The Dancer presents Sipho's bass as leading instrument. Quick bass runnings form a catching melody. Smooth pipe synth lines please our ears.
Don't Mess With Me enriches the South African music style with strong jazzy brass elements.
Godfather Special marchs on with easy tripping South African rhythm (drums, percussion and bass), while the brass presents a fulminante melody refined with sax solos. Remember Paul Simon's Graceland.
Phambili has the same finest ingredients. The tune features Sydney Mavundla on trumpet.
After so many uptempo tunes the album slows down to the romantic love song I Love You Too. Sipho 's bass shows a deeply impressing bandwidth.
Township Jive - the title says it all. Great South African brass and bass.
With Song For Christopher we reach anew the shore of Smooth Jazz. Louis Mhlanga's professional guitar solo is fascinating and breathtaking. I promised you, you will hear more about him.
Back to African music listen to Country Side, combining the world of contemporary jazz and African sound. Anew Louis Mhlanga showcases brilliantly his licks and skills. Also magnificent Andile Yenana's blessed piano solo. Don't forget McCoy Mrbuta's sax solo.
Egoli, a slow tempo vocal, tune features great South African voices in the native language.
Down Freedom Avenue presents more South African brass from Sipho 's same titled album. Wonderfull the pipe synth and the bass solos.
Thank You For Listening is the slowtempo, melancholic final tune. Smooth sax and brass combined to an intriguing melody.
Sipho, we have to thank you for your great music. South Africa music is seldom to hear outside of Africa. With the possibilties of internet and online buying this is no problem anymore. People like Dave Love, Andy Narell, Jonathan Butler, Harry Bellafonte have shown the way, which is easily to go. Why do you hesitate? Start with this album now!
© HBH