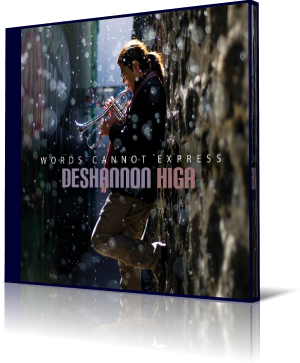 Honolulu based trumpet player DeShannon Higa is a first call session player. He performed with many big names such as Burt Bacharach, Diana Krall, Wynton Marsalis, Al Jarreau, Joe Williams, Wayne Newton, and Tower of Power, to name just a few. He is connected with many local bands like The Royal Hawaiian Band, gr00ve.imProV.arTiSts, Bop Tribal, Subtonic Orchestra and Quadpod.
While Honolulu is his hometown, he spend a lot of time in New York playing Carnegie Hall, Birdland, Radio City Music Hall, and Lincoln Center. He regards himself as an ambassador of other music styles on his home island. He performs a wide range of genres. "I've gone through my bebop and hard bop phase, cool and minimal phase, Latin and funk, ECM and abstract, acid jazz and hip-hop phase. Where I am currently is more cinematic and orchestrated, I would say."
His debut album Words Cannot Express (2018) is a crowd funding project. "I am a soul with a story to tell, but words cannot express. Therefore, I use music to say what only the heart can speak." The album is now available on CDBaby. Stylistically the album is a little adventure, nobody knows exactly in which direction the journey goes. Twenty local musicians were involved in the production, listing them all would go beyond the scope of this review.
DeShannon Higa has dedicated his album to God, because he gave him this gift of musical expression to share. Consequently DeShannon calls the Intro Soli Deo Gloria, a Latin term for Glory to God alone. It has been used by artists like Johann Sebastian Bach, Georg Friedrich Hδndel, and Christoph Graupner to signify that the work was produced for the sake of praising God.
With Sonic Garden he draws a sound painting of a special kind. A cinematic grandeur of harmony that would benefit any monumental film. Eclectica is the act of being eclectic and DeShannon does justice to this demand, because he joins the group of elite jazz fusion musicians. Boop Beep is superficially a sophisticated horn arrangement. In combination with the innovative rhythm and the fine secondary tones, however, it becomes an almost surreal total work of art.
Come Thou Fount of Every Blessing is a Christian hymn written by the 18th century pastor and hymnodist Robert Robinson. DeShannon Higa's interpretation reveals an arrangement standing in Christian tradition. Kaulana Na Pua is a Hawaiian patriotic song written by Eleanor Kekoaohiwaikalani Wright Prendergast in 1893. As an instrumental version that follows the beauty of the melody, the political explosive power of the lyric is concealed. The interlude Alleluia Amen has something of musical ecstasy.
Since Santana's Jingo there's a big gap in percussive pieces. With Earth Song DeShannon fills this gap perfectly. Indigo is a contemplative piece in itself, which flows calmly and stimulates relaxation. Dancing Angel features female singer Tiffany Nagano, that attracts attention with a childlike voice. This gives the piece a natural innocence.
Through the Tears spreads a melodramatic mood, which is impressively and dramatically accompanied by the muted trumpet and the horn choir. DeShannon's unadulterated trumpet rises above all like the phoenix out of the ashes. On Vesper saxophonist Reggie Padilla lifts up his haunting instrument. Soli Deo Gloria (Outro) takes up the original motif again. The final Epilogue brings an expressive emotionality, which is reflected in a melancholic mood. Sometimes a trumpet is just more than words.
DeShannon Higa leads us through the ups and downs of his instrumental emotions on his album Words Cannot Express. If you take this risk, you will be rewarded with a trumpet in its abundant diversity.


Buy the album in all stores

Album Information

Title: Words Cannot Express
Artist: DeShannon Higa
Year: 2018
Genre: Contemporary Jazz
Label: Independent


Tracks:

01 – Soli Deo Gloria (Intro) [feat. Timothy Tsukiyama] (01:04)
02 – Sonic Garden (07:34)
03 – Eclectica (05:25)
04 – Boop Beep (05:56)
05 – Come Thou Fount of Every Blessing (08:18)
06 – Kaulana Na Pua (04:38)
07 – Alleluia Amen (Interlude) (01:35)
08 – Earth Song (08:15)
09 – Indigo (08:21)
10 – Dancing Angel (feat. Tiffany Nagano) (06:58)
11 – Through the Tears (08:20)
12 – Vesper (feat. Reggie Padilla) (03:33)
13 – Soli Deo Gloria (Outro) (01:01)
14 – Epilogue … Words Cannot Express (02:17)