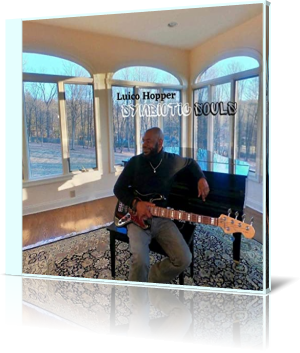 To those who are unfamiliar with bassist Luico Hopper, he recorded with Gato Barbieri, Diana Ross, Gil Evans, Earl Klugh, Jonathan Butler, Johnny Gil, Luther Vandross, Stephanie Mills, Bryan Ferry, Joe Taylor, Sherry Winston, Eartha Kitt, and many more. He was involved in the original Broadway Cast Recordings of Shrek The Musical, Priscilla Queen of the Desert, Motown the Musical, and the recordings of The Fortress of Solitude and The Glorias.
The number of his solo albums is manageable: His debut album was Lessons Of Light (1995), followed by Reflections (2000) and now Symbiotic Souls (2020). The participating musicians are listed in the credits. Luico has composed, arranged & produced all songs.
Opener of the album is Shazaming. Something is shazaming when it gets to the highest point of excitement. Luico's demands on himself and his music are no less stringent, as well as those of his accompanying musicians.
Upright Stride is a term Luico newly created. It's the movment on the upright bass with long steps. Now experience the conversion into the ultimate groove. Way Back When lures with a hypnotic swing.
Symbiotic Souls starts with a semi-orchestral introduction and then presents Luico's bass affinity on electric bass and upright bass harmonizing the theme. Cloud Drifters incorporates fretless bass, upright bass and electric bass to a wavering vibe. Smoothie Strut is a full-bodied horn paradise featuring David Mann on sax, a riveting rhythm guitar and of course Mr. Bass himself.

On every album of a bass player one can await a bass enhanced tune. Luico is no exception and offers Here We Go Again with all fine bass ingredients. Senegal Sunset tantalize your senses with an organ enhanced and bass leaded sonic melody. Final tune is Ancestor Salute, Luico's charismatic travel to the origins.
Luico Hopper's Symbiotic Soul was long overdue. His new album has enough substance to satisfy the needs of all friends of the bass.




Buy the album in all stores

Album Information

Title: Symbiotic Souls
Artist: Luico Hopper
Year: 2020
Genre: Smooth Jazz
Label: Independent

Tracks:

1) Shazaming (4:41)
2) Upright Stride (4:26)
3) Way Back When (5:34)
4) Symbiotic Souls (4:24)
5) Cloud Drifters (5:09)
6) Smoothie Strut (5:04)
7) Here We Go Again (2:12)
8) Senegal Sunset (4:10)
9) Ancestor Salute 4:29)





Further reviews:


Reflections



Credits:

Luico Hopper, upright & electric basses, keyboards (7)
Phil Hamilton, guitars (1,3,5,6,8)
Tommy Igoe, drums (4)
David Mann, tenor sax (2,6)
Billy Paterson, guitars (2,4,9,)
Robert Stephens, keyboards, horn arrangements (All tracks except 7)
Buddy Williams, drums (all tracks except 4&7)