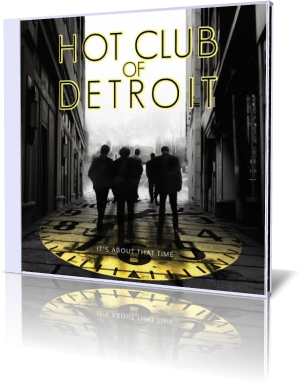 Hot Club of Detroit is inspired by the Quintette du Hot Club de France, featuring guitar virtuoso Django Reinhardt and violinist Stéphane Grappelli. The current Hot Club of Detroit is made of guitarist Evan Perri, accordionist Julien Labro, soprano and tenor saxophonist Carl Cafagna, rhythm guitarist Paul Brady, and bassist Andrew Kratzat. Perri founded the Hot Club of Detroit in 2003 while attending Wayne State University in Detroit.
In the following years the group won several awards. Their self-titled debut album (2006) was followed by Night Town (2008). It's About That Time is their third album (2010), released on Mack Avenue.
With On the Steps the group signals uncompromising jazz "A Grande Vitesse" in the style of Django Reinhardt presenting the members of the group in solo phases. Jazz aficionados will recognize the chord changes of Pat Martino's On the Stairs (with a pithy quotation from John Coltrane's Giant Steps).
Charles Mingus' Nostalgia in Times Square finds a new face formed by this remarkable group. Still in the tradition of jazz with guitar and accordion the group also adds modern elements like hand-clapping. Django Reinhardt is the showerhead from which we all come down," says guitarist and bandleader Evan Perri. "But if he had lived, I don't think he would've been playing the same things he had in prior years. He was constantly evolving as a jazz musician."
On Noto Swing competes guitarist Evan Perri with accordionist Julien Labro and clarinetist Carl Cafagna. All three deserve the crown. Frédéric Chopin's "Tristesse" E Major Etude comes back with a vengeance. After the classic intro the group creates their own unique continuation. Equilibrium tends to Chick Corea, while the Restless Twilights spreads the chic of Paris. The accordion evokes pictures of romantic strolls along the Seine, crusty baguettes shared in quaint cafes, intimate brasseries, and soulful crooning by sultry chanteuses as a Parisian city-guide describes.
For Stéphane is an homage to guitarist Stéphane Wrembel, not the original Hot Club of France violinist Stéphane Grappelli, as I assumed. A gypsy, a friend of guitarist Evan Perri sharing the interest for the music of Django Reinhardt. The slow ballade Papillon is filled with melancholy. Duke and Dukie is a tune, Django Reinhardt wrote in 1947, the time when he rejoined with Grapelli. It's the music, which was full of the happiness after surpassing a hard time during world war. Hot Club of Detroit captures perfectly that spirit.
Heavy Artillerie is another tune by Django Reinhardt." We try to find Django tunes that haven't been performed to death," Brady says. "He wrote a ton of stuff so we can always find something that we can have fun and stretch out on." It's About That Time from Miles Daves In A Silent Way (1969) sparkles in from time to time.
Patio Swing is the right sound for total relaxation in your garden or elsewhere. The waltz Sacré Bleu reveals more of the dynamic force of the group. Julien Labro shines on his accordion as Evan Perri does on his guitar. Final tune on this album is Sweet Chorus delivering a breath of depravity like The Third Man Theme.
Hot Club Of Detroit is a high-prolific band exceeding all conceivable speed limits. On their third album the group offers some slow elements which hopefully destroy the impression of overdosed pyrotechnics of Perri and Labro and gives the group more atmosphere and charismatic exposure.




Buy the album in all stores



Album Information

Title: It's About That Time
Artist: Hot Club Of Detroit
Year: 2010
Length: 0:56:35
Genre: General Jazz
Label: Mack Avenue Records

Tracks:

01 On the Steps [4:26]
02 Nostalgia in Times Square [3:04]
03 Noto Swing [3:26]
04 "Tristesse" E Major Etude [4:18]
05 Equilibrium [4:48]
06 Restless Twilights [4:33]
07 For Stéphane [5:30]
08 Papillon [4:27]
09 Duke and Dukie [4:16]
10 Heavy Artillerie / It's About That Time [4:11]
11 Patio Swing [5:33]
12 Sacré Bleu [3:36]
13 Sweet Chorus [4:26]