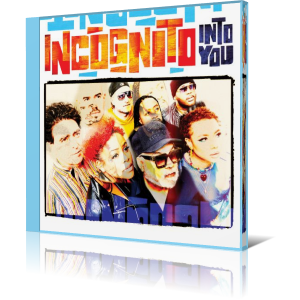 The formation Incognito initiated by Jean-Paul "Bluey" Maunick is an ever-changing conglomerate of highly talented musicians who have been instrumental in shaping the content of the term acid jazz.
This website has tried to approach the phenomenon of his personality through record reviews, interview, essays and concert reports. I myself had only the opportunity for a short conversation with Bluey on the occasion of a concert in Cologne, but have been one of his admirers for many years.
So it's a pleasure to welcome Into You, a new album released this month on the Shanachie Entertainment label. The massive scale of such a project can easily be seen in the credits. The comprehensive album kicks off with Keep Me in the Dark and features vocalist Natalie Duncan. Natalie Alexis Duncan is a British soul musician from Nottingham, England. The piece is characterized by a brilliant horn section and a virtuoso piano solo by Chicco Allotta.
The title song is interpreted soulfully by Cherri V. This British vocalist already stands out for her red hair but especially for her expressive R&B voice. Nothing Makes Me Feel Better, also with the dominant voice of Cherri V, is remarkable for its special dynamics, powerful horns and a captivating drive. Colourblind returns to the singer Natalie Duncan who is in the absolute center with a sophisticated jazzy arrangement.
With Keep On Dancing, Cherri V challenges the listener to not lose the love of life and to keep moving. Because movement is life. Saxophonist Paul Booth, responsible for the fantastic horn arrangement of The Lowrider, has already arranged for Incognito the tune Could Heaven Ever Be Like This (2022). Outstanding Charlie Allen's guitar solo! Yamaha stated this man made a name for himself in the jazz scene with his intricate and precise yet detailed style.
Reconsile The Pieces presents Natalie Duncan and Tony Momrelle in typical Incognito harmony, carried beautifully by Sid Gauld's flugelhorn. With Stories Of Our Past, Cherri V harkens back to the band's past musical trends, pounding hard with powerful horn arrangements. With Come To Me Incognito returns to instrumental music featuring Sid Gauld's finest trumpet and Chico Allota's virtuosity on piano.
Days Like These shows more of Cherri V's vocal talent. She is presented on this album with four songs and you cannot decide which one is the best one. Close To Midnight is an audiophile revelation with protagonists Max Beesley on vibraphone, Charlie Allen on guitar and Ludivine Issambourg on flute. Make Me Change My Mind lives the chorus and delights us with the exqusite timbre of Natalie Duncan.
Chico Allota, who in the course of this album has already attracted our attention with his mastery of the piano, shows us his distinct vocal talent on 1993. On Step appears as a platform for Natalie's experimental vocal artistry, leading the band into an instrumental ecstasy. Brighton-based multi-instrumentalist, producer, and vocalist James Berkeley makes a guest appearance on Tell Me Something. That makes you sit up and take notice.
The closing track of this album is Back On The Beach, which is especially tailored to the smooth jazz community with its all-pleasing sound. Thus, the general response among critics is positive.
The new album of Incognito Into You turns out exuberant with 16 pieces of music and testifies to the elemental act of creation of the project, which has settled around Jean-Paul Maunik.