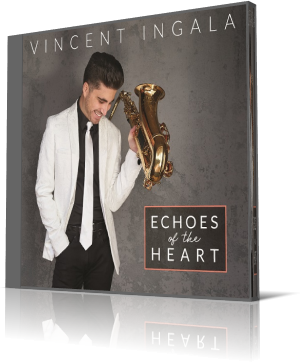 Connecticut-born saxophonist and multi-instrumentalist Vincent Ingala has already released five albums:
North End Soul
(2010),
Can't Stop Now
(2012),
Coast To Coast
(2015)
Christmas
(2016) and
Personal Touch
(2018), produced on the prestigious label Shanachie Entertainment. He now continues on this label with
Echoes of the Heart
(2020).
Vincent performs on the album besides his sax various other instruments. He is joined on selected tracks by Dan Hendrix (trombone), Chris Geith (acoustic piano, keyboards and synth programming), DW3 (background vocals), Sam Sims (bass guitar), David Benoit (acoustic piano), Pat Lennon (trumpet), and Steve Oliver (nylon string guitar).
Caught Me by Surprise
is the aptly titled beginner of the album. After numerous performances, it is certain that Vincent is a crafty entertainer who quickly captivates his audience. This ability is also reflected in his music, which absolutely has that certain something that is often missing in the music of other musicians.
Maybe You Think
has its roots in the R&B era of the 70s with rhythm and bass, while the tune-leading saxophone is not averse to the smooth jazz of modern times. The title song features keyboardist Chris Geith, who is a member of Vincent's live band. The first collaboration between both and what shall I say, it works!
What's Option B?
is a fast pulsing rhythm-enhanced tune which encapsulates the vibrant energy of guitarist Ingala.
Ready or Not
is a hit single by the group After 7 taken from their debut album (1989). Vincent's rendition perfectly captured the spirit of the original.
Somewhere in Time
is a lovely ballad with Vincent on soprano saxophone and David Benoit as star guest on piano.
Let's Go Back
presents a fine tuned horn arrangement with Ingala's sax, Pat Lennon on trumpet and Dan Hendrix on trombone. A tonal greeting to the glory days of big bands.
Take Your Time
is a bopper's delight with a funky attitude.
Baby, Baby
is a song by Amy Grant from her album
Heart In Motion
(1991). The pop song became Grant's second number-one hit in the pop charts. Vincent takes on this song in the manner known from smooth jazz, replacing the voice with the saxophone as lead instrument. Do old brooms sweep well?
Sunset on Marco
is dedicated to late Dr. Nancy Cappello, a shining light in the fight against breast cancer. She and her husband have hosted numerous holidays for Vincent and his family on Marco Island. Together with guitarist Steve Oliver he creates the cozy atmosphere Vincent remembers with pleasure.
Vincent Ingala keeps with
Echoes of the Heart
his promises and establishes himself more and more as an integral member of the music scene.




Buy the album in all stores


Album Information

Title: Echoes Of The Heart
Artist: Vincent Ingala
Year: 2020
Genre: Smooth Jazz
Label: Shanachie Entertainment


Tracks:

1 Caught Me by Surprise 4:01
2 Maybe You Think 3:42
3 Echoes of the Heart (feat. Chris Geith) 3:58
4 What's Option B? 3:38
5 Ready or Not 4:16
6 Somewhere in Time (feat. David Benoit) 4:04
7 Let's Go Back 3:42
8 Take Your Time 4:05
9 Baby, Baby 4:01
10 Sunset on Marco (feat. Steve Oliver) 4:25