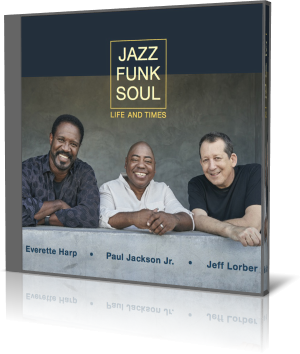 Jazz Funk Soul was formed by keyboardist Jeff Lorber, guitarist Chuck Loeb and sax player Everette Harp. Late guitarist Chuck Loeb considered the group as a natural extension of the fun and high level of creativity that was taking place on stage each night. In this formation the trio was blessed to release two albums, the same titled debut album (2014) and the sophomore album More Serious Business (2016).
After Chuck Loeb's all too early passing away the fan community feared a standstill of further recordings like with the group Fourplay. Now the group Jazz Funk Soul has surprisingly reunited and welcomes its new member guitarist Paul Jackson Jr., who comments: "Chuck, you're one of the best musicians and best people, I've ever met. I speak in present tense because you're not gone, you're just not here. I miss you, and look forward to making music with you in Heaven."
Life And Time is the name of the new album, which will be released January 25, 2019 on Shanachie Entertainment Group and is dedicated to the late Chuck Loeb. Jeff Lorber performs keyboards, Rhodes, acoustic piano, moog bass, and guitar, Everette Harp keys, alto sax, tenor sax and EWI, Paul Jackson Jr. lead and rhythm guitars.

On the album you can also see some familiar faces like Gary Novak, Michael White (drums), David Mann (horn arrangement, recording and performance), Lenny Castro (percussions), Jamie Hovorka (trumpet, flugelhorn), Michael Boscarino (trombone), Alex Al, Rickey Minor, Freddie Flewelen (bass), Dave Delhome (organ and Wurlitzer), and Donn Wyatt (Clavinet).
You can notice the routine in these trio. Everything goes smoothly by the hand. On Exotic Jeff Lorber sets the pulse with his synth bass and Everette Harp together with David Mann lights a fireworks of brass. This is the perfect playground for Jeff to expands his sound excursions on the keys. Paul Jackson jumps in with a short guitar solo. Blacksmith starts very horn committed with full cast, before Jeff starts bouncing off the keys again. Everette is blowing the soul out of his body.
Walkin' With You comes with a certain EWF flavor. Although written by Everette all three members bring their musical personality in equal parts in. Windfall is the first single of the album and already on heavy rotation on numerous radio stations. And quite rightly so. If you have a Deja Vu experience with Life and Times, that is reasonably understandable, because this is typical Jeff Lorber style. Consequently all musicians perform on the highest level one can imagine.
Fifth Ward has a gospel like attitude with a question-answer performance between guitarist Paul Jackson Jr. and saxophonist Everette Harp. Sunset Rock showcases what a brilliant two handed guitar player like Paul Jackson Jr. is capable of. His guitar sound is crisp and clear like a rising Phoenix. The sound of the EWI is so unique and spectacular, that EWI player Harp is on Room W VU in the absolute center of action.
The guitar introduction of Where You're At sounds like Guess Who's American Woman, but soon the theme goes its own characteristic way. Cadiwampus is according to several online dictionaries something that's not right, strange, ass backwards, crooked. Adjectives that certainly not apply to this piece of music as a whole and also not in detail. The tune is in a manner of speaking a chapeau to the jazz fusion music of Jeff Lorber.
Surely you can't replace a blessed guitarist like Chuck Loeb. But that was not the intention of Jeff Lorber and Everette Harp. With Paul Jackson Jr. as new guitarist, Jazz Funk Soul has only opened a new chapter in their successful band history. The legacy continues with Life And Times, the most precious things we hold in our hands.






Buy the album in all stores

Album Information

Title: Life And Times
Artist: Jazz Funk Soul
Year: 2019
Genre: Smooth Jazz
Label: Shanachie Entertainment Group


Tracks:

1 Exotic 4:43
2 Blacksmith 4:47
3 Walkin' With You 4:40
4 Windfall 4:30
5 Life and Times 4:20
6 Fifth Ward 4:49
7 Sunset Rock 5:09
8 Room W Vu 4:48
9 Where You're At 4:40
10 Cadiwampus 4:55

Further Reviews:

More Serious Business