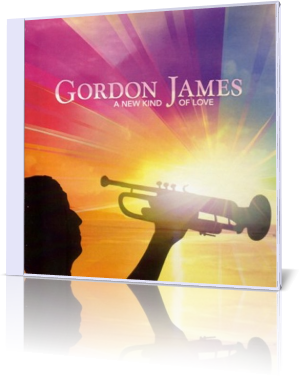 Trumpet and flugelhorn are the signature instruments of Gordon James. Eric Kloss, Johnny Guitar Watson, Chuck Loeb, Bob Baldwin, James Lloyd, Gil Parris, Josh Dion, David Darling and Paul Winter are among those artists, he had the pleasure to perform with.

He started his solo career with the album Candlelight Love in 1995, followed by the albums Gordon James (1999), After Hours (2004) and In Joy (2007). After a long hiatus Gordon is back with A New Kind Of Love (2011). On this album he is joined by Matt King, Joe Scott and James Lloyd (keyboards), Mike Hogan, Mike Neer, and Jerry Topinka (guitars), Mark Peterson and Chris Plinkett (bass), Jose Loo, LaJuan Carter, Ty Stephens, and Chanda Rule (vocals). Gordon plays beside his main instruments, organ, piano, synthesizers, drum programming and synth bass.
A New Kind Of Love is Gordon James' approach to combine musical elements featuring singer Jose Loo & LaJuan Carter with his own divine trumpet performance. The result is a chorus line in the style of the Carpenters with the trumpet in the lead.
Turntable scratcher meets flugelhorn and muted trumpet, that's the funky No Diggity. Straight From The Heart presents dynamic singer Ty Stephens. This easy going tune with a rich melody will certainly captivate many listeners.
Charlie Chaplin's all-time-wonder Smile from the 1936 movie Modern Times motivated legions of musicians among them Michael Jackson, Tony Bennett, Stevie Wonder. Gordon James takes the more classical Bossa Nova road.
Gordon James is certainly a fan of Herb Alpert, who recorded originally Burt Bacharach and Hal David's This Guy's In Love With You. Like Herb Gordon sings the melody and also presents the trumpet part. Ty Stephens elegantly interprets Make It Your Day with his immaculate voice. With Our Love is Gordon's own praise of love featuring muted trumpet and flugelhorn. Funky Stuff is exactly what the title promises. That's what I want to hear. Let the whistle blow!
Donny Hathaway's The Ghetto from his album Everything Is Everything (1970) is well re-interpreted by Gordon James with great respect for the original. Gordon is a heavyweight in mellow tones and when Ty Stephens adds his vocal attractiveness on One True Love, romantic will be in the house.
Sting composed the song Fragile for his album ...Nothing Like the Sun (1988). The song is dedicated to Ben Linder, who was killed by the Contras. A song with a strong melodious potential often covered by best-known artists like Jesse Cook, Nils Landgren or Isaac Hayes. Gordon's treat approaches the original version with lofty sensibility.

With Urban Shaman Gordon takes a slight detour to World Music. Dark Chocolate is bittersweet and offers the right groove for a hefty bite. Here You Are is for all people with a romantic vein! Got Blues clarifies that phone calls are still a theme in music. On the final song Give Peace A Chance/One World One Heart Gordon James walks on the Indian influenced path of John Lennon's music. Greetings to Swami Bhaktivedanta!
Gordon James showcases with A New Kind Of Love anew his unique style expanding his horizons beyond smooth jazz breaking the boundaries of many radio stations.