| | |
| --- | --- |
| Archive | |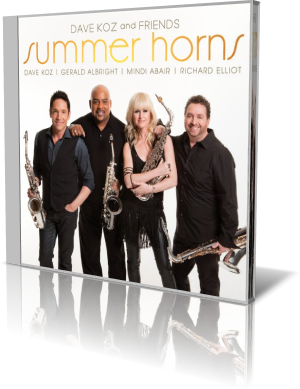 The union of several star musicians to a formation is an effective way to get more attention and impact. Dave Koz, Gerald Albright, Mindi Abair and Richard Elliot already have experience with this procedure, so Dave Koz will have to do little gentle persuasion. With
Summer Horns the quartet has had already some successes. What could be better than to perpetuate this success with a recording.
With Greg Adams, Tom Scott and Gordon Goodwin as arrangers and Paul Brown as producer and the support by guest-musicians Rick Braun, Brian Culbertson and the vocalists Michael McDonald, Jeffrey Osborne and Jonathan Butler success is inevitable. The group has chosen popular songs of the past that have the selective use of horns together.
The album starts with the Ronnie Laws composition Always There from his album Pressure Sensitive (1975). With the wide use of four saxophones one naturally achieves a powerful impression. Paul McCartney wrote the song Got To Get You Into My Life for the Beatles album Revolver. The song became known by the rendition on EWF's The Best of Earth, Wind & Fire, Vol. 1. A showpiece for any horn section!
The illustration of Herb Alpert's hit Rise is strongly influenced by the smooth jazz format. The Tower of Power song So Very Hard To Go features the great singer Michael McDonald, who fits perfectly with his expressive voice to the horn arrangement. Sly and the Family Stone's song Hot Fun In The Summertime is an easy going hooky tune. A song to sing with.
Take 5, best known by Dave Brubeck is genuinely re-arranged by Gordon Goodwin. The quartet is only accompanied by Roberto Vally on acoustic bass. The jazz-fusion and rock group Chicago have sold over 38 million units in the US, among their hits was 25 Or 6 To 4. To replace Cetera's lead vocals by saxophones is a difficult undertaking. The group also offer a horn rendition of EWF's love ballade Reasons (That's the Way of the World). The original features the falsetto singing of Philip Bailey. The cover could be the B-side of the original.
James Brown's I Got You (I Feel Good) is transferred to a brass-heavy instrumental arrangement followed by a wonderful interpretation of Stevie Wonder's You Havenít Done Nothiní. Jeffrey Osborne contributes God Bless The Child, just what the doctor ordered. Billie Holiday couldn't do it better. Uh-oh! The album closes with the group's own composition Summer Horns. Now we know, what we have missed.
One can of course argue about the need for a cover album. Dave Koz and Friends made ​​the best of it and their arrangements are just to the point.




Buy the album in all stores

Album Information

Title: Dave Koz And Friends Summer Horns
Artist: Dave Koz
Year: 2013
Length: 0:55:47
Genre: General Jazz
Label: Concord Records

Tracks:

01 Always There / Dave Koz feat. Gerald Albright, Mindi Abair, Richard Elliot [4:06]
02 Got To Get You Into My Life / Dave Koz feat. Gerald Albright, Mindi Abair, Richard Elliot [5:38]
03 Rise / Dave Koz feat. Gerald Albright, Mindi Abair, Richard Elliot [5:09]
04 So Very Hard To Go / Dave Koz feat. Gerald Albright, Mindi Abair, Richard Elliot [4:39]
05 Hot Fun In The Summertime / Dave Koz feat. Gerald Albright, Mindi Abair, Richard Elliot [4:28]
06 Take Five / Dave Koz feat. Gerald Albright, Mindi Abair, Richard Elliot [4:13]
07 25 Or 6 To 4 / Dave Koz feat. Gerald Albright, Mindi Abair, Richard Elliot [4:48]
08 Reasons / Dave Koz feat. Gerald Albright, Mindi Abair, Richard Elliot [4:46]
09 I Got You (I Feel Good) / Dave Koz feat. Gerald Albright, Mindi Abair, Richard Elliot [4:17]
10 You Havenít Done Nothiní / Dave Koz feat. Gerald Albright, Mindi Abair, Richard Elliot [3:47]
11 God Bless The Child / Dave Koz feat. Gerald Albright, Mindi Abair, Richard Elliot [5:59]
12 Summer Horns / Dave Koz feat. Gerald Albright, Mindi Abair, Richard Elliot [3:58]