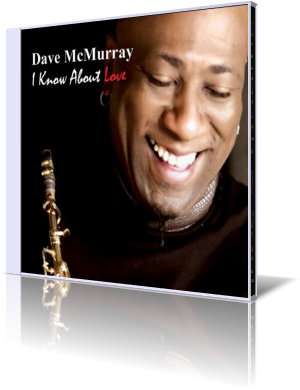 Reading the biography of Detroit based sax player Dave McMurray reveals astounding facts. He has worked with a diverse range of artists, including Bob James, Kem, Kid Rock, Bob Dylan, Bonnie Raitt, Geri Allen, The Rolling Stones, Gladys Knight and Bootsie Collins. A saxophonist between jazz art and commercialism Dave always present his strong personality in his live shows.
His playing and recording for Kem and Kid Rock was certainly a time consuming situation. Fortunately Dave had enough time between tours and recording sessions to finish his own project. After a long hiatus we can now listen to his newest album I Know About Love. Beside great names as Marcus Miller, George Duke, Bob James, and Kem Dave counts on his fellow musicians like Al Turner (bass), Ron Otis (drums), Luis Resto (piano), Wayne Gerard (guitars), Darrell 'Peanut' Smith (bass), Herschel Boone (vocals), Brian O'Neal (keyboards) and many more.
The album starts with the mysterious Time #4. Far away from the mainstream smooth jazz Dave presents a Tablas-driven piece in full groove. The funky I Luv You Like Jazz introduces Dave's dog Snoop Diggity Dawg. The song speaks for McMurray's bizarre humor that is rooted deep in the funk. Bootsie Collins' influence is undeniable.
On the reggae tune First Night In Africa Dave reflects his experience during his tours through Africa. Legendary jazz musician Marcus Miller celebrates his bass in a mesmerizing way. With the slow-tempo Precious Memories McMurray excels equally as romantic sax player, brilliant composer and arranger.
The hand-clapping and stomping I'm Coming Up connects to the good old time of Rose Royce's Car Wash. Adell's 'Showboat' Shavers' guitar crackles, George Dukes' reminiscence in Fender chords and Dave's fiery sax blow make this tune to something special. On Love Calls Kem returns the favor for Dave's performance on Kem's album Intimacy.
Who had the luck to attend The Dave McMurray Band Live at The Detroit International Jazz Festival 2010, will know how deep into jazz Dave is diving with his Waba Doo Bop onstage. One Night In Paris is featuring wonderful singer TiYi Adjovi, a rhythm oriented piece with Dave's dynamic sax and his ornamental flute in the lead. On I Know About Love Dave McMurray presents his favorite singer Herschel Boone. The intimate tune perfectly fits to this young singer.
As you may recall, Dave McMurray is often touring with Bob James. Both are sworn musical companions. Dave often performed on Bob's recordings. It's only natural, that Bob shines on Radio Days with excellent piano and Fender Rhodes running. In 1980 tenor sax player Winton Felder (Crusaders) released the soul-influenced Inherit The Wind. On his tight reflection McMurray presents singer Sweet Pea Atkinson, like Dave a member of the group Was (Not Was). With his signature vocals this soul man shapes the image of this group.
Beautiful You shows soul singer Herschel Boone in full swing. A divine retro sound. Since Herbie Mann and Hubert Laws is the jazz flute very popular. Naked is Dave's place to mesmerize as "Piper of Hamelin". Break It Down features the fascinating singer Jessica Wagner-Cowan. The vocal recordings are excellent and her young voice has that alluring something.
My Ma's Song is a reflective piece in dedication to his beloved mother. On the final reprise I Luv You Like Jazz / Rollin Dave features Rapper Paradime aka Freddie Beauregard, who does the turntables and back up vocals for Kid Rock. He is best known in the Detroit hip-hop scene since 1991.
Dave McMurray's new project I Know About Love is a cornucopia of brilliant songs. Considered one of the finest avant-garde saxophonists Dave confirms with this album in a convincing manner this statement.