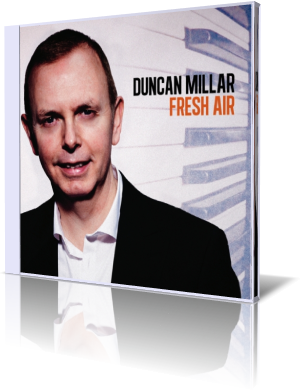 Ten years ago we observed a phenomena in Great Britain called Acid Jazz. Berklee graduate Duncan Millar was part of this scene performing with musicians such as Down to the Bone, who he used to work with in his West London studio making raucous house records before they started Down to the Bone.
Duncan became know by his solo projects A-One, Dream Your Dream (1999), Good To Go (2001), the latter two re-released under the title Comin' Thru (2001). And then there was silence for Duncan. I frequently asked him in 2012, when he would release a new album. Now he presents his new album Fresh Air (2013).
Duncan has written and produced all songs. While Duncan performs keyboards and drum programming, he is supported by Jacko Peake (sax), Mark Vandergucht (guitar), Chris Dodd (bass, drum and percussion programming), Dennis Charles (vocals), Alex Booney and Damon Brown (trumpet) and many more.
As if time stood still, we are delighted by Duncan's very own music. Fresh Air offers, quiescent music with a special elegance. Buenas swings in the Bossa nova style. Ilhabela is the Portuguese word for pretty island and also the name of a Brazilian island situated 4 miles off the coast of São Paulo state in Brazil. The tune is inspired by this wonderful local venue.
Swing and vintage sound are also the breeding ground for As Lovers Do. Since Petite Fleur we know about the appeal of these elements. After the trumpet of the previous song introduces Southern Sky flute and piano to the audience. A marked propensity for Rhodes piano you can notice on pieces as Autumn Mood. For such melancholy songs with a strong jazz character this instrument predestined.
Belmondo is an extension of that sentiment. From ancient times the color blue is associated with the music style jazz. Blue Cool is relaxed and delightful smooth jazz. On Subcontinental Duncan conjures musical images of strange continents. Get What You Give is a special kind of energizer, an invitation to the dance floor.
Duncan Millar's Fresh Air is a successful blend of smooth jazz of all moods. Entertaining to the last note.