| | |
| --- | --- |
| Archive | |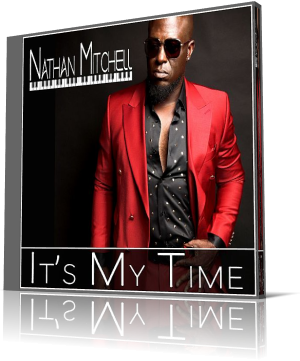 Composer, producer and keyboardist Nathan Mitchell started his solo career with For All Eternity (2012), a tribute to his late wife. Further albums are The Love and Passion Collection (2014), Smooth Groove (2018), Soulmate (2019), Love Languages (2021), and Live from the DMV (2022). His newest album It's My Time was released on Trippin 'N' Rhythm Records September, 2022.
Guest musicians on this album are Tim Bowman, Marcus Anderson, Nick Colionne, Kirk Whalum and the Mo'Horns. But there are many more musicians joining this project as you can read in the credits.
Already with the opening track It's My Time Nathan captivates us with his agile piano virtuosity. He celebrates his own composition with a graceful lightness that is second to none. Guitarist Tim Bowman is a worthy accompanist.
One of the most precious goods we possess is love. Just Love is Nathan's musical contribution to the enduring theme. On many textiles you can find the laundry mark 100% Cotton. A natural product produced with a lot of diligence and sweat. It's worth noting that keyboard player Nathan audibly plays bass guitar well here. Former Prince player Marcus Anderson shows his potential on the sax.
Boss Man must have been recorded very early, because this track still features the all-too-early deceased guitarist Nick Colionne, who we will always remember as the best-dressed jazz guitarist. Sweet Seduction is one of the few tracks on the album that was recorded solely by Nathan. He shows the whole range of his skills on the keyboard instruments.
The ballad You Are My World shows Nathan's emotional and romantic side, which can be found on many music albums, but is especially successful here. Journey To Love brings to the stage sax legend Kirk Whalum, known worldwide for his spiritual playing and approach to life.
Joie De Vivre, the French euphemism for vitality, does indeed have rhythms of African origin. Peaceful Journey presents Emmanuel "EJ" Mitchell, Nathan's son, on drum programming who made his first live appearances with his father at the age of 14.
I Wanna See You Dance with its funky R&B song jumps a bit out of the overall concept of the album and puts a striking exclamation mark behind Nathan's new project.
Trippin 'n' Rhythm Records is lucky to have found such a top-class exponent of smooth jazz in Nathan Mitchell.



Buy the album in all stores

Album Information

Title: Cali Dreaming
Artist: Nathan Mitchell
Year: 2022
Genre: Smooth Jazz
Label: Trippin 'n' Rhythm Records


Tracks:

1) "It's My Time feat. Tim Bowman" (4:08)
2) "Just Love" (4:12)
3) "100% Cotton feat. Marcus Anderson" (4:35)
4) "Boss Man feat. Nick Colionne" (4:24)
5) "Sweet Seduction" (3:53)
6) "You Are My World" (5:01)
7) "Journey To Love feat. Kirk Whalum" (4:40)
8) "Joie De Vivre" (4:13)
9) "Peaceful Journey" (4:04)
10) "I Wanna See You Dance feat. Mo'Horns" (3:45)


Credits:

It's My Time feat: Tim Bowman

Written, Produced, and Arranged by Nathan Mitchell for ENM Music Group
Piano and Keyboards: Nathan Mitchell
Bass Guitar: Darrius Jamar
Drums: Ronald "RJ" Kelly
Guitar: Jordan Love
Sax Backgrounds: Kyle Schroeder
Mixed: Nicholas Cole
Mastered: Nathan Mitchell
Publishing: Nathan Mitchell for ENM Music Group

Just Love

Written, Produced, and Arranged by Nathan Mitchell for ENM Music Group
Piano, Keyboards, Moog Bass, and Drum Programming: Nathan Mitchell
Lead Guitar: Jordan Love
Drums: Emmanuel "EJ" Mitchell
Sax and Flute Backgrounds: Kyle Schroeder
Mixed: Nicholas Cole
Mastered: Nathan Mitchell
Publishing: Nathan Mitchell for ENM Music Group

100% Cotton feat: Marcus Anderson

Written, Produced, and Arranged by Nathan Mitchell for ENM Music Group
Piano, Keyboards, Hammond Organ, Lead Bass, and Bass Guitar: Nathan Mitchell
Lead Guitar: Jordan Love
Drums and Drum Programming: Emmanuel "EJ" Mitchell
Saxes and Flute Backgrounds: Marcus Anderson
Mixed: Nicholas Cole
Mastered: Nathan Mitchell
Publishing: Nathan Mitchell for ENM Music Group

Boss Man feat Nick Colionne

Written, Produced and Arranged by Nathan Mitchell for ENM Music Group
Piano, Keyboards, and Moog Bass: Nathan Mitchell
Drums and Drum Programming: Emmanuel "EJ" Mitchell
Guitar: Jordan Love
Mixed: Nicholas Cole
Mastered: Nathan Mitchell
Publishing: Nathan Mitchell for ENM Music Group

Sweet Seduction

Written, Produced and Arranged by Nathan Mitchell for ENM Music Group
Piano, Keyboards, Drum Programming, and Moog Bass: Nathan Mitchell
Mixed: Nicholas Cole
Mastered: Nathan Mitchell
Publishing: Nathan Mitchell for ENM Music Group

You Are My World

Written, Produced, and Arranged by Nathan Mitchell for ENM Music Group
Piano, Keyboards, and Moog Bass: Nathan Mitchell
Lead Guitar: Jordan Love
Drums: Emmanuel "EJ" Mitchell
Sax and Flute Backgrounds: Kyle Schroeder
Background Vocals: Khaleb Roberts
Mixed: Derrick Holmes
Mastered: Nathan Mitchell
Publishing: Nathan Mitchell for ENM Music Group

Journey To Love feat: Kirk Whalum

Written, Produced, and Arranged by Nathan Mitchell for ENM Music Group
Piano, Hammond Organ, Keyboards, and Bass Guitar: Nathan Mitchell
Drums: Ronald "RJ" Kelly
Drum Programming: Emmanuel "EJ" Mitchell
Guitar: Jordan Love
Mixed: Nicholas Cole
Mastered: Nathan Mitchell
Publishing: Nathan Mitchell for ENM Music Group

Joie de Vivre

Written, Produced and Arranged by Nathan Mitchell for ENM Music Group
Piano, Keyboards, and Moog Bass: Nathan Mitchell
Drum Programming: Emmanuel "EJ" Mitchell
Sax and Flute Backgrounds: Kyle Schroeder
Mixed and Mastered: Nathan Mitchell
Publishing: Nathan Mitchell for ENM Music Group

Peaceful Journey

Written, Produced and Arranged by Nathan Mitchell for ENM Music Group
Piano, Keyboards, and Moog Bass: Nathan Mitchell
Drum Programming: Emmanuel "EJ" Mitchell
Mixed: Nicholas Cole
Mastered: Nathan Mitchell
Publishing: Nathan Mitchell for ENM Music Group

I Wanna See You Dance feat: Mo'horns

Written, Produced, and Arranged by Nathan Mitchell for ENM Music Group
Piano, Keyboards, TalkBox, Vocoder, and Moog Bass: Nathan Mitchell
Lead Guitar: Jordan Love
Drums and Drum Programming: Emmanuel "EJ" Mitchell
Horn Section: Mo'Horns
(Marvin Thompson – Trombone, Theljon Allen – Trumpet, James Cheeks – Saxophone)
Mixed: Nicholas Cole
Mastered: Nathan Mitchell
Publishing: Nathan Mitchell for ENM Music Group