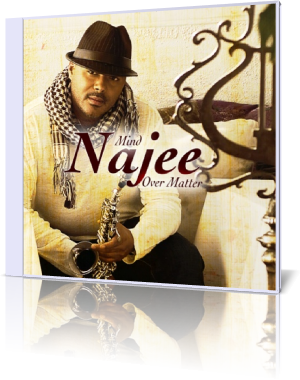 An attentive observer of Najee's career will recognize the change of Najee's outfit on his last three albums. In the past dressed elegant like a nouveau rich Najee is now down to the earth. Indeed Najee's contact to audience and fan base is better than ever. Najee can look back on a long livelihood as one of the high acclaimed sax players. His contributions to the music world are constantly perfect.
The title of Najee's new album Mind Over Matter is inspired by Miles Davis' art of songwriting. "In his later years, he took a very loose and improvisational approach," Najee comments. "He would start with nothing more than a groove that Marcus Miller or some other member of his band would lay down. And from there he would just develop these melodies that were very simple but at the same time very compelling and very memorable. It was a creative process that bypassed the nuts and bolts of the song and just got right to the essence of it."
Najee's song writing process was supported by artists like keyboardist Jeff Lorber and vocalists Eric Benét and Gary Taylor. The album opens the grooves with the urban Love You A Lifetime. Luscious sax layers are the melodious background for Najee's expressive sax solo enriched with some keyboard gimmicks. Jeff Lorber's superb Rhodes solo is the bridge to Najee's brilliant travel around on flute.
The popular shuffle rhythm is the backbone for Najee's mellow soprano sax journeying on Sweet Summer Nights. Also impressive the strong horn input by Darren Rahn. Najee explains: "He's a well-kept secret who has written for Wayman Tisdale and many others. He's very good at writing songs that contemporary jazz radio likes to play." Darren recently released his new album Talk Of The Town on NuGroove Records.
Mind Over Matter shows keyboardist Will Brock in splendid condition. His solo project A Letter from Eye to I may find your attention. The contemplative Love Forever And A Day After reveals Najee's sophisticated and still romantic vein.
We Gone Ride is a collaboration between Eric Benét and Najee, a bustle of r&b and smooth jazz with a sprinkle of jazz. "When I recorded that song with Eric, he said to me, 'I had Roy Hargrove do the original horn arrangement.' Then producer Demonte Posey and saxophonist Mike Parlett (Solar Radio) took Roy's charts, made some modifications and came up with the arrangement you hear on this track. It's complex, but it allows plenty of room for everyone in the section – Mike on tenor and alto, John Papenbrook on trumpet and Andrew Lipman on trombone," comments Najee.

Najee and pianist Darryl Woodson co-wrote and recorded The Journey. A tune like a film-score." That's a song that follows a very simple melody, but it speaks a lot in terms of how it comes across," says Najee. "The track is so full of opportunities for a soloist, and I had to control my urge to play all over it. For me, it is the most personal song on this record. One take, and that was it."
Stolen Glances is the second production with Jeff Lorber. Najee reminds: "I ended up spending a lot of time at Jeff's house and recording there. I really didn't expect to spend as much time working with him there as I did, but we ended up having a lot of fun with these songs. We recorded six to seven ideas and ended up with these two". Jeff has a special hand for the right pitch and his work on Rhodes and other ancient keys is miraculous.
Needless To Say shines with an elegant and polished melody. Najee creates from every song a musical work of art. One More Thing approaches the contemporary jazz scene. Moon Over Carolina is Gary Taylor's masterpiece. "Gary's a very prolific R&B writer who has written with Anita Baker and Will Downing," says Najee. "He brings that same great R&B sound to this song as well." Gary performs beside Najee all instruments and his mellow vocals are just brilliant.
Najee is a master of tenderness. He embraces you with his delicious and soul stirring melodies day by day.






Album Information

Title: Mind Over Matter
Artist: Najee
Year: 2009
Length: 0:50:59
Genre: General Jazz
Label: Heads Up International


Tracks:

01 Love You A Lifetime [3:40]
02 Sweet Summer Nights [4:12]
03 Mind Over Matter [4:40]
04 Love Forever And A Day After [4:52]
05 We Gone Ride [5:26]
06 The Journey [6:58]
07 Stolen Glances [4:35]
08 Needless To Say [5:33]
09 One More Thing [5:03]
10 Moon Over Carolina [6:00]



Further Reviews