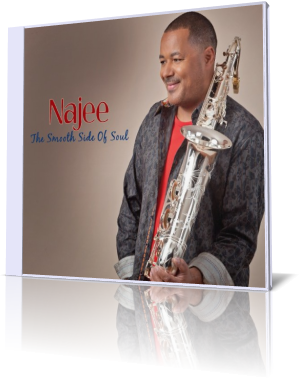 Master of tenderness, saxophonist Najee is one of the most famous musicians in the smooth jazz genre. Since his debut album Najees Theme (1986) he constantly released his music. Day By Day (1988), Tokyo Blue (1990), Just An Illusion (1992), Share My World (1994), Najee Plays Songs from the Key of Life: A Tribute to Stevie Wonder (1995). Morning Tenderness (1998), Embrace (2003), My Point Of View (2005), Rising Sun (2007), Mind Over Matter (2009) and now The Smooth Side Of Soul (2012) are his further milestones.

The album offers ten tracks, produced by Chris "Big Dog" Davis, Jeff Lorber and Darren Rahn, who are working wonders in this business. Further musicians are singers Will Downing and Phil Perry, Mel Brown and Seth Lee (bass), Mike Warren, John Roberts and Bobby Colomby (drums), James Lloyd (piano), Keith Robinson, Frank Selman and Michael Thompson (guitar). All best known cats in the scene.

Chris "Big Dog" Davis already teamed up with Najee on his previous albums My Point Of View and Rising Sun. He delivers funky bass, urban beat and the complete sound environment for Najee's sax wizardry on Dis N' Dat.

Just To Fall In Love featuring the mesmerizing singer

Phil Perry starts with a infectious disco beat. While the sax stays in the background Najee is absolutely brilliant on flute.

Perfect Nites is just pure melting sax and the groove is flowing perfectly. This song is the first single on selected smooth jazz radio stations. Davis also penned You Tube, a song with a great potential for the R&B charts. Najee performs this song on his flute with great expressive force. The emotional impact makes his interpretation vivid and vibrant.

The uplifting moments of In The Clouds infuses the room with emphasized sounds. Lightness can be so jazzy. One Night In Soho sets the contrast with a dark and urban performance. Can you feel the vibrant life of central London? When poignancy melts with exotic on Mari, then Najee's flute has its magic effect.

Strange ways Najee goes with Fu Fu She She. He takes the melancholy feeling to his saxophone and merges it with urban funk. But then he cheers it up with a smile again. We know Jeff Lorber as a strong representative of the fusion jazz movement. First Kiss reveals his ultra smooth side, obviously infected by Najee's soprano sax performance. When Sound For Sore Ears sounds very straight ahead for you, then this is quite understandable. Najee and James Lloyd are swimming in Jimmy Heath's pool. A hard bop tune originally released on Jimmy's album The Gap Sealer (1972).

Najee's new album The Smooth Side Of Soul is like a fine grocery and general store of music. There's a lot diversity to explore.