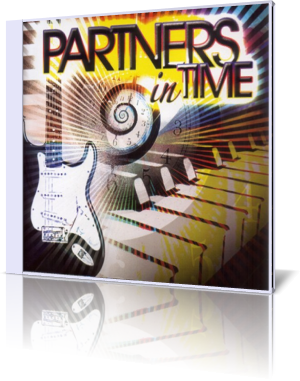 Partners in Time are guitarist Phillip Siadi and keyboardist Lenore Paxton. Both are Detroit area musicians who have been long-time collaborators on diverse musical projects including pop and dance music productions. They are also founders of a children's music and film company, Worldkids Press.
Since several years the artists worked together as band Lightfall releasing a number of CDs in the New Age genre. Detroit-born Phillip Siadi is influenced by a broad range of guitarists from Al DiMeola and George Benson to Jimi Hendrix, Santana and Van Halen. Pianist/keyboardist/arranger Lenore Paxton counts to her influences artists from Miles Davis and Herbie Hancock to the Crusaders and Weather Report.
Their newest project is entitled Partners in Time (2012). All songs are written by Siadi except Joy Ride and Dream Cruise, which are composed by both musicians. Joy Ride is a prolific smooth jazz production. The cheerful melody benefits from the jubilant effect, intonated by Siadi on guitar and absorbed by Paxton on flute and keyboard.
The influence of rock music makes itself clearly felt on Scratchin'. Especially the use of distortion guitar reminds me of Jim Peterick, who debuted in Smooth Jazz with Lifeforce in 2009.
The hall as a style element creates a spacey ambiance for Dream Cruise. Cookie Factory starts with an interesting rhythm backbone running into a stringent melodic structure. Marisamba falls in love with a whimsical theme. Itchin 'is a throwback to the rock sample.
Sneaky can go about it quietly, though of course it doesn't reach the class of Santana's Samba Pa Ti. Julius revels in the richness of the sound world. Smooth Groove shuffles around the dance floor.

One notice past and heritage of the band members by listening to Partners In Time. This album is more likely to meet the taste of those, who feel at home in the New Age genre.