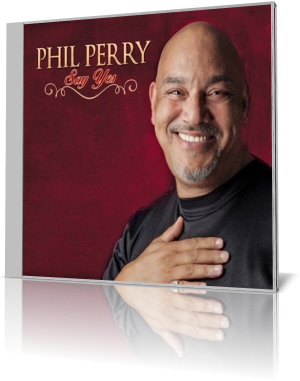 One wonders why a singer like Phil Perry is assigned to general jazz. For me, he is the embodiment of classic R&B. At festivals and also in recordings he worked often with representatives of smooth jazz. So you can listen to this singer on Najee's The Smooth Side Of Soul or Rising Sun, Alexander Boynton Jr.'s Doo Bee Doo Bop or A. Ray Fuller's The Weeper.
Phil has already recorded numerous solo projects. Since 2006 he is connected with Shanachie Entertainment. His newest album Say Yes was released Mar 12, 2013 and produced by Chris "Big Dog" Davis, who collaborated with Phil on all five Shanachie releases. "As always, when working with Big Dog (Davis), we try to address all the relevant directions relating to the material," explains Perry. "We try to keep the classic essence while allowing me to be the artist that I am. What that means is singing the melody without it being sterile, inserting new background ideas and different instrumentation to contemporize the sound without removing the essence of classic R & B."
Sam Cooke wrote You Send Me in the prime of his youth. Perry shows just what you can get out of such a piece. Starting in a classic approach, he continues the song in a Marvin Gaye way. With the enchanting Chanté Moore he pairs on Where Is The Love? Originally recorded by Roberta Flack and Donny Hathaway carries this version also the splendor of immortality.
Tonight Just Me And You features Najee's sensitive soprano sax. The use of auto tune is probably due to the fashionable aspect of time. This also applies to the technical voice changes of the background singer Donnell Smallwood on You Belong To Me. This is the difference between classic and urban R&B, we have to accept. Phil and Chris "Big Dog" Davis are renowned experts in the classic R & B style. Their joint creation Say Yes, you can hear it clearly on. Arrangement, intonation, melody, everything is right in place.
With Just A Little Bit, they go a different way, moody like a film noir. The inclusion of a piece like The Long and Winding Road is certainly owed to the commercial success of the album. Perfectly interpreted it can however contribute little to the overall atmosphere of this project. There can Phil develop better on his own compositions such as Peel The Veil and Can't Hide Love. Najee creates on his flute a true miracle. Simon & Garfunkel's Bridge Over Troubled Water is a nice way to finish. I especially like the chorale approach.
With his album Say Yes Phil Perry belongs to the guardians of the classic R & B. We love him for it.